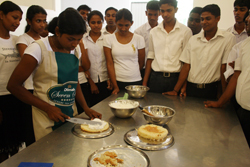 Cake-making
HAMBANTOTA – When five students from a hotel school jointly run by Don-Bosco and the Chef's Guild of Sri Lanka presented themselves for an interview at a hotel in Sigiriya, their 'immaculate' behaviour – even before the interview – impressed the manager so much that they were hired on the spot.
"The manager was impressed by what he saw as they waited to be called that he hired them without spending much time on an interview," Don Bosco's Bro. Gabriel told The Sunday Times FT.
The Don-Bosco Chef's Guild of Lanka Institute of Hospitality and Catering at Hambantota imparts much more than just hoteliering and catering. The courses have a holistic training module which includes human and moral values, cleanliness and behaviour, Bro Gabriel said.
The hotel school, which also has a small hotel with 7-8 chalets on the beach as a training ground for the students, accommodates about 30 in a batch. It was started soon after the tsunami to help youth in the area learn some skill. The Chef's Guild runs a bakery and pastry course at a fully automated bakery at the centre. English is also taught to the students.
The students are all Buddhists and the school liaises with the local temple in selecting entrants. According to W. Sayakkara, Pastry/Bakery Chef cum Instructor, most of the students from the previous two batches have got jobs in top hotels in Colombo and elsewhere. The hotel school is concentrating a lot of bakery and pastry courses due to demand for pastry chefs in New Zealand and Australia, he told the newspaper during a recent visit to the centre.
Deeganage Gamini de Silva, 31, who has worked in a hotel in Ambalantota, says he joined the course to learn pastry making and baking as he wants to go to Australia. Nadeeka Ranjani, 21, also wants to go abroad and sees the hotel school as a step in that direction. In the case of Imesha Nadeeshani, 17, the hotel school hopes to set up pastry outlets in the town and elsewhere and plan to give her an opportunity to run one of them.
Don Bosco is an international organisation of Catholic priests and brothers dedicated to the service of the young, especially the disadvantaged and marginalised in many countries. It has a large programme in Sri Lanka.