E-WIS won the Premier Business Partner of the year 2007/2008 – PSG (Personal Systems Group) award for the fourth consecutive year at the HP (Hewlett Packard) Business Partner Forum 2008.
The award ceremony took place during the Business Partner forum at 'HP Drums Up 2008' held in Kandy, recently. E-WIS said in a press release that it also acquired The Best Emerging Partner of the year 2007/2008 – TSG (Technology Systems Group) award.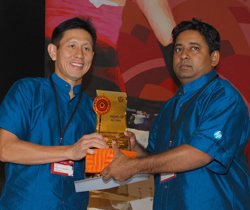 Picture shows Kalum Hettigama (right) receiving the Sales Excellence Award of the Year award.
The year-on-year revenue growth of over 60% towards HP TSG, penetration to key customer accounts with TSG products and total customer satisfaction delivered by E-WIS made them the winner of this award, the company said.
TSG products include, HP servers, storage products, HP Software, HP services etc. EWIS implemented solutions using HP TSG products in many of its nationally significant projects including the Biometric Fingerprint Identification Solution provided to the Department of Employees Provident Fund.