A Sri Lankan pottery specialist is putting his business and future on the line to help a group of people in the impoverished village of Koulara, on the edge of the Uda Walawe National Park, develop their skills and raise their heads from poverty.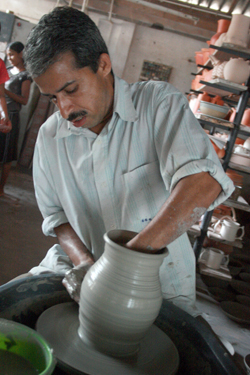 Making a vase
Providing a helping hand to Ajith Perera's 'Animal Tracks' project is Dilmah and the MJF Charitable Foundation which provided the crucial kickstart to the project where villagers produce beautiful works of art from ceremic clay for export.
He says the next level is crucial. "Where do we go from here to make this a sustainable project and ensure the 'Animal Tracks' Pottery Centre will survive over the next few decades?" asked Mr Perera, a reputed pottery expert who runs his own production centre at Boralesgamuwa near Piliyandala.
To ensure the sustainability of the project as 'the villagers depend on me for their survival', Mr Perera is preparing to set up a Crafts Village outside the Park which will produce, sell, teach and demonstrate the making of pottery items. "Ultimately I want to create Sri Lanka's first domestic pottery village."
It all began at Koulara in Moneragala district where, after many years of obstacles, beautiful pottery items are now being carved from animal footprints for tea connoisseurs across the world. The relationship between this once-struggling village, IUCN and Dilmah, Sri Lanka's biggest value-added tea producer, has brought man and beast closer in a harmonious setting. "These villagers who never stepped into the national park (because they were so poor) are now collecting animal footprints and learning about the animals and their lifestyles," said Mr Perera, considered among Sri Lanka's best pottery craftsmen and team leader of the project. It was IUCN, the global environmental campaigner, that brought Mr Perera and Dilmah together.
Beautiful pendants
During a visit there some months back by this writer, the 'Animal Tracks' workshop and training centre was producing dozens of tiny pendants made out of waterproof ceramic clay, imported from Australia, for Dilmah to insert in packs as souvenirs for tea consumers across the world.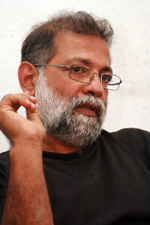 Ajith Perera
Earlier the only income-generating work Koulara residents had was brick making but that too collapsed and then they were forced to take jobs in a nearby sugarcane plantation. "We would make less than 3,000 rupees a month and that too if there is work," said Sriyani Subasinghe, manager of the Animal Tracks workplace.
Now women and girls are making Rs 20,000 to Rs 25,000 a month and in one month made as much as Rs 31,000. Animal Tracks employs 125 people, mostly young women who often work in the comfort of their home and are paid per item on a piece-rate basis. The project is helping uplift some 1,000 people. Salaries of the workers are sent straight to the bank into individual accounts organised by the village company run by a local cooperative society. Every worker has a bank account (rare in a village) and an ATM card, also unthinkable for that kind of society. "We are showing them the world and making them a part of the big picture (global marketplace)," Mr Perera noted.
The expert craftsman proudly says that the women who were sugar cane cutters have turned into crafts-persons in their own right, turning out beautiful works of art from calloused hands. 'Animal Tracks' produces a range of plates, ornaments and jewellery from clay using the footprints of elephants, leopard and other animals from the park. Venturing into the park, with the help of park wardens, villagers look for footprints and then fill them with plaster-of-paris, turning out a mould within minutes. Mr Perera, who regularly shuttles between Koulara and his Boralesgamuwa facility, says the project has rejuvenated the village. "From virtually nothing, the village has become a 'somebody'. Imagine using the hitherto-unknown skills of these women to produce delicately carved ornaments and pendants for world markets? It's like a dream for them," he said.
"This project has given hope to all of us. With the comfortable income they get, our workers are rebuilding their homes, buying other needs and also saving in the local bank," says 24-year old Anoma Jayaratne, Animal Tracks Production Manager. Animal Tracks was picked as one of the five best environmentally sustainable projects for IUCN and profiled at the IUCN international conference in Barcelona in September.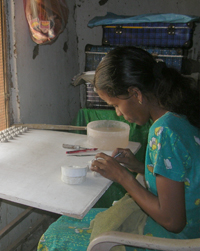 Pendant making
For Mr Perera, 'Animal Tracks' is a dream come true. "More than running business I always wanted to develop handmade crafts nationally and profile the talents of our villagers," he said, adding that Koulara is gearing to be the country's first domestic pottery village.
Handicraft centres
Mr Perera, who started his business 20 years back, helped launched a project to create handcraft centres in 1000 villages while he was enlisted as a consultant for the Ministry of Small and Rural Industries under then Minister Lal Kantha. Industrial cooperative societies were set up. When 'Animal Tracks' at Koulara began, for one year the villagers agreed to get involved and trained without getting any money.
"Despite all kinds of problems – particularly no income - they were convinced that this project will pay off. There was no politics attached to this project, nor state support," Mr Perera recalled. One year later, Dilmah entered the scene and things changed rapidly but not without Mr Perera's hard work. His contract with Dilmah provided for spending two days a month in the village but he ended up spending 62 days in four months, during one spell. "I stayed in a hut and the villagers provided the food," he said, recalling the tough, formative period of the project.
Taking the project to the level where it is self-sustaining is now drawing his full attention. Having spent many years in the village, the pottery expert finds cooperative societies running businesses not a sustainable model. "As long as I or a expert is there, the project will be okay but cooperative societies are politicized units and controlled by groups. There will be problems if 'Animal Tracks' is owned and run by a cooperative society," he said, analyzing a common problem that confronts cooperative societies across the island.
The model he has in mind is to use the centre as a production facility and the Crafts Village as a buyer which will also purchase from anyone in the village (outside the centre) if the product is good. "This way we create competition, bring in private sector management and ensure these productions units are self sustaining," he said.
The master craftsman, whose ground-breaking 'Animal Tracks' won first place at the recent 'Hands' exhibition in Colombo, the first time the centre has taken part in an exhibition, is going a step further in making 'Animal Tracks sustainable. "I plan to stop production at my Boralesgamuwa facility and outsource the work to Koulara. This will ensure a steady source of income for the village and still makes it cheaper for me to outsource these products," he said, adding that the residents of Koulara are "part of my family now and they depend on me. I can't let them down."
Breaking the glass ceiling
Mr Perera pays a tribute to the women of Koulara saying they have broken the shackles of a village culture where the woman's place was always considered at home to look after the husband and children. In this male dominated culture, women like Anoma Jayaratne – who Mr Perera says has exceptional talents as a craftsperson and a manager – have broken the glass ceiling and ventured out on their own while maintaining the family.
"They have broken these barriers with great difficulty and it's our duty to ensure projects like this are sustained (or we let them down)," he said, just as Anoma called (on his mobile phone) from Koulara. "They keep in touch with me everyday to seek assistance."
He believes these villagers need to be uplifted and skills training provided rather than giving a subsidy, handout or charity. "We need to create a path just like what I got," he said, reminiscing on how when he was young he used to collect the clay from freshly dug wells and turn out pottery items.
In the early 1970s, Mr Perera – keen to enhance his pottery skills -- joined the Ceremics Corporation as an unskilled labourer and rose to launch the first studio pottery exhibition along with another colleague, Tissa. From then on his ambition was to create a national effort to lift villagers from poverty through a self-sustaining model of hand craft centres.