'Seb's Nite 2008', grand annual dinner dance organized by the Old Boys' Association of St. Sebastian's College, Moratuwa will come alive at the Hotel Holiday Inn on Friday, December 5 from 8.00 p.m onwards.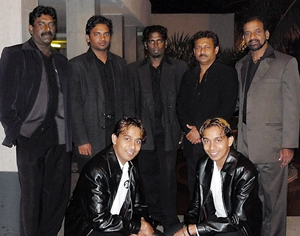 Super Pink n' Purple
Popular band Super Pink n' Purple led by veteran musician Lincoln de Silva will be the main band in attendance supported by "Spirit" led by Lucky Deva as a second band along with Faizal Bongso as compere.
The OBA has made all necessary arrangements to hold this big event Seb's Nite 2008 Dinner Dance, as it's one of the main events in the OBA calendar.
The Seb's Dinner Dance has now become an annual feature and is in an event much looked forward by all those who were present at the previous dances' said the project co-chairman Christy Fernando
This event is being organized partly towards raising funds for the "Chapel Project" of the College, which commenced this year.
"A proper place of worship is essential in for a school, moulding the lives of future citizens to inculcate the religious and moral values in them. In the present day when the general values and discipline are deteriorating, it become necessary for a school to have the required facilities to develop such values
Prizes including air tickets and surprises to keep the fund makers enthralled with take away souvenirs have been planned by the organizing committee headed by Christy Fernando, Premalal Aponso and Prasanga De Silva