Eighth wonder of the world, Sigiriya Rock, is one of the most popular destinations in Sri Lanka. It never experienced a dull moment even when the overseas arrivals are low. Sri Lankan visitors to the great heritage site increased with every year.
To accommodate the inflow of travellers, more and more hotels and resorts are being added. The latest is the 'Kassapa Lion Rock' Hotel, which has a great location overlooking Sigiriya and Pidurangala rocks.
Ideally located in the heart of the cultural triangle, on a ten acre land facing the magnificent Sigiriya and Pidurangala rock in the midst of a small village named Digampathana, it is just 20 minutes away from the Dambulla town and ten minutes drive from Habarana.
'Out of all the hotels, we got the best view of the rocks. Most of the promotional materials ignored Pidurangala, which is equally important as a historical and as an archeological factor. We promote both rocks' explained Nilan Wickremasinghe, Director of the hotel.
'Kassapa Lion Rock' shelters 31 well appointed spacious chalets with beautiful open air bath rooms giving a perfect ambience for a comfortable stay. Hot and cold water, bathtub, open air shower, satellite TV, mini bar, IDD are some of the facilities available at the individual chalets.
The modern swimming pool adds luxury to a simple village atmosphere. 'The concept of the 'Kassapa Lion Rock' is 'village'. We have our own working paddy field. Greenery in every corner and the country look is the top attraction for the overseas visitors' said Mr. Wickremasinghe.
'Kassapa Lion Rock' has been categorized as one of the best bird friendly hotels in the region by the Field Ornithology Group of Sri Lanka (FOGSL). 'We have identified 168 species of birds in our premises and some are endemic' added Ratnayake, the naturalist of the hotel.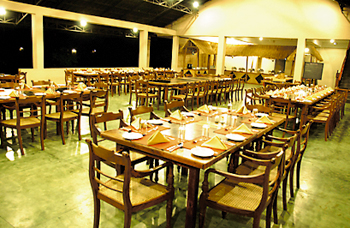 Main Restaurant
Apart from the Village atmosphere, the Chef Buddhika has arranged an array of dishes from the region as well as from around the world. Open air restaurant surrounded by nature, serves a variety of dishes ranging from eastern to western cuisine along with an A la Carte menu.
'Not only Sri Lankans, but foreigners too love to taste authentic Sri Lankan dishes. We offer them BBQ to widespread Continental cuisine along with local dishes to feel the typical village atmosphere' explained Chef Buddhika, who has a career spanning over 25 years and experience in several star class hotels around the world.
All produce and herbs served are freshly gathered from the nearby village. 'Kassapa Lion Rock' is an ideal base from which travellers can explore many picturesque sites famous for its historic and cultural importance, such as Anuradhapura, Polonnaruwa, Sigiriya, Dambulla and Ritigala, which are just one to two hours drive from the hotel.
| | |
| --- | --- |
| | |
| Nilan Wickremasingh | Chef Buddhika |
National parks which are famous for wild elephants such as Minneriya, Kaudulla and Eco Park are located in close proximity to the hotel. 'We arrange excursions on request or guests can have a walk to the nearby village in the evening to feel the locality.
This is popular among not only foreigners but with Sri Lankans too' Nilan said. Kassapa Lion Rock Hotel is a popular venue for in-house conferences and seminars that can accommodates 75-100 people. It is also a destination for corporate outings too.
Special packages can be arranged for accommodation during the conference and seminars. "We also arrange entertainment, cocktails, theme nights, special menus and the events on individual requests' he said
Wedding packages for overseas weddings are available too. Bird watching, biking (carefully planned maps of biking) tracks are available at the reception.