'Sihina Rangahala' (Theatre of Dreams), short drama festival produced by award winning playwright Dhananjaya Karunaratne will be staged at 3.30 pm and 7 pm on November 22 at Lionel Wendt.
The festival will include 'Valentine Enakun' played by Chandani Seneviratne and Susith Nishantha, "Chandrawathie Samage Rathriyak" played by Palitha Silva and Kawshalya Fernando, "Duwana un Dennek" played by Chamal Ranasinghe and Dimithu Chinthaka, "Oba Sapekshai" played Madani Mawathtage and Sanath Wimalasiri and "Last Bus Eke Kathawa" Saumya Liyanage.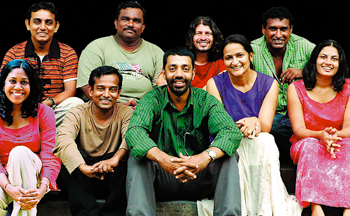 The players of 'Sihina Rangahala'
An extraordinary play that built a close relationship between the audience and the actor, "Last Bus Eke Kathawa" was became popular in the English theatre as well with its translation by Ruwanthi de Chickera and played by Gihan de Chickera and the it was also performed in a number of countries.
Over the past few years Dhananjaya has been experimenting in search of a more proactive and sensitive style of theatre. This series is a successful result of above experiment. After a while the drama series is reproduced with the original cast since there is a growing demand for Dhananjayas plays.
Dhananjaya Karunarathne is an experimental playwright with a bachelor degree in painting and sculpture at the Institute of Aesthetic Studies, University of Kalaniya and a masters degree in theatre arts at the university of Wollongong, Australia. In the last few years Dhananjaya has been involved with the Merrigong Theatre Company in Australia. He has been developing his own theatre concept named 'Theatre Against the Audience.