The 17th successful musical experience of 'Marians unplugged' will be performed at 7 pm on November 22 in Negombo at Maris Stella Indoor Stadium.
Led by Nalin Perera, 'Marians' created difference in local music scene with its first unplugged show two years ago at the BMICH. Following the immense success and demand by their fans, the band performed a number of shows here and abroad in the countries Middle East and the Europe within last two years.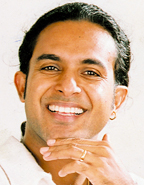 Nalin Perera
Organised by the Youth Society of St. Mary's Grand Street Church, Negombo the show would have a fine collection with some new songs to their previous unplugged concert.
"We have added a number of English songs together with some Hindi songs with melodious tunes to our evergreen Sinhala collection," Nalin Perera, Marians leader said TV Times.
When we introduced this music style, it became an instance hit among our audience. And I realized the recognition we received over the last two years with the unplugged show was huge compared to the popularity we had received over previous 18 years. With the unplugged we were able to introduce a style of music that is both soothing and healing.
"I don't think any government can do what we are doing with music today. At a time when people are burdened with so many financial constraints, people are still willing to come to theatres to listen and enjoy good music," Nalin said sharing his past unplugged experiences.
With unplugged show, Marians introduce a variety of musical styles including jazz, country, western and classical to some of the Sri Lankan songs. Among the songs in the list are popular evergreen hits like, H. R. Jothipala's "Oba Nidanna Oba Nidanna" and "Neela Desa Pura", some calypso songs including "Kadukare" and "Sandak Negi Sandak Dile". Among the English songs Marians will play "Hotel California", "More than I can say", "Holiday", "She got the look", "This Love", "Summer Time", "Let it be" and Spanish hit "Mariachi" together with some Hindi songs.
Marians entered musical arena as members of the band of their alma mater St Mary's College, Chilaw and had the distinction in releasing the first album of MARIANS in 1988, which took the local music seen by storm.
"It was our principal Rev. Br. Aloysius who choose the name when we were desperately searching for a band name as bunch of school children then," Nalin said narrating beginning of 'Marians.
"The success of Marians is due to enthusiasm and keenness with which each band member pursued the advancement of their musical knowledge and training," Nalin said.
The 'Marians' consists Prasanna Rosa (lead guitar/ acoustic guitar), Dileepa Mangala (piano), Ajith Ruwan (rhythm guitar), Chaminda Silva (bass and classical guitar), Subash Punyasoma (drums), Jayantha Kandabadage (percussion), Hector Dias (saxophone/ vocals), Shivantha Fernando (vocals) and the leader Nalin Perera (bass guitar and vocals).