Award winning actor and playwright Jayalath Manoratne's tenth stage production 'Sudu Redi Horu' will go on boards at 3.30 pm and 7 pm on November 21, Friday at Lionel Wendt Theatre, Colombo-7.
Having produced plays like 'Gurutharuwa', 'Puthra Samagama', 'Andarela', 'Sandagira' and 'Lokaya Thani Yayak', Mano's (popularly known as) latest is based on what a present day messenger flying over the country would observe. 'Sudu Redi Horu' a winter visitor to the country describes with sensitivity what he sees from the sky, the woods, the highways, the seat of Government, theatres, villages and cities, with a subtle social comment.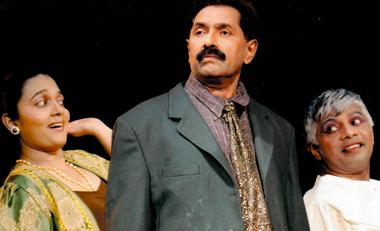 "With 'Sudu Redi Horu' I wanted to observe the present society from a high angle report what we would see. To do that one has to go to high place like Eiffel in France or CN Tower in Toronto. We don't have a place like that in our country and then I thought what a bird who fly high would observe in this society. And then it struck me not only now even in our rich literature 'Sandesha Kavya' the style was used to describe or appreciate the beauty of gardens, rivers, temples, palaces and nights," Mano said. The format for the play was influenced by 'Sandesha Kavya' style and poetry and verses were used for the presentation.
Jayalath Manoratne has studied evolution of 'Sandesha Kavya' to our literature and used its format. There the poetry was used to describe the country and the surrounding with exaggeration through various birds.
And 'Sudu Redi Horu' will describe what they see in the society satirically. Mano has visualized this in the form of a dramatic performance.
This modern day Sandesha Kavi are written by well-known writer and poet, Rathna Sri Wijesinghe. Music is directed by Navarathne Gamage. Ravibandhu Vidyapathi is responsible for the choreography while Swinitha Perera designed the costume and Jagath Padmasiri make up. The stage set is by Lionel Bentharage.
Along with Mano, Rodney Warnakula, Chandrasoma Binduhewa, Sampath Tennekoon, Ajith Lokuge, Susil Wickramasinghe, Giriraj Kaushalya, Mali Jayaweerage, Fernie Roshini and others. The Groups of 80 presents 'Sudu Redi Horu' and it is organized by Susil Wickramasinghe.