By Himal Kotelawala
Reading maketh a full man, goes the age-old axiom. But reading anything and everything on the bookshelf wouldn't make a man full; only profound literature has the power to do that. And that literature, like everything else in this world, must be encouraged, nourished and recognized for its worth, if a new generation of full men is to evolve, which is what the D. R. Wijewardene Memorial Award for the best Sinhala novel in manuscript form presented each year aims to do. Held for the 24th consecutive time, on Thursday evening, this year that honour went to novelist Chandra Jayatunga for her work titled "Gathi Wiyamanak".
The award ceremony was held at the BMICH with the participation of Chief Guest, Speaker W. J. M. Lokubandara, Guest of Honour, Opposition Leader Ranil Wickremesinghe, authors, critics and several other distinguished personalities in the field of Sinhala literature.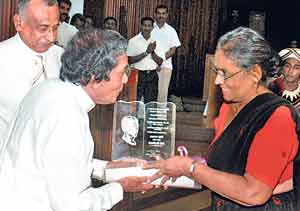 Chief Guest, Speaker W. J. M. Lokubandara presenting the award to Chandra Jayatunga for her work titled "Gathi Wiyamanak".
Addressing the gathering, Senior Lecturer at the Peradeniya University Prof. Attanayake M. Herath said that the late D. R. Wijewardene who took Lake House to great heights in the colonial days by making its publications function as a true opposition to the then British administration, was a true Sri Lankan at heart even though he preferred to be clad in a European suit.
"During that period English was the first language in schools but Mr. Wijewardene encouraged the teaching of Sinhala as a second language. He instilled traditional values in his children. During dinner he would sit with his young children and tell them stories about great heroes here and abroad, particularly in India, who fought for their country's independence," he said.
Mr. Herath went on to say that Mr. Wijewardene was instrumental in finding the location for the Peradeniya University which produces scores of bright, young graduates every year. However, he said, it is unfortunate that in a country so full of qualified graduates, the art of reading is steadily going downhill.
"We have over a thousand students passing out annually as graduates, and only a little more than 200 of these are male. In a country so full of educated girls, what do you see when you turn on the TV first thing in the morning? Cookery programmes, beauty tips and whatnot. There is not even a half hour programme dedicated to literature," he said.
Speaker Lokubandara spoke of the importance literature plays in shaping a qualitative society and stressed that that role should not be allowed to diminish under the so called 'realism' aspect found in modern literature.
"How many people have been positively influenced by these supposedly realistic stories? What we must expect from a publication is something that encourages society to do good, and something that bring out the best in everyone," he said.
The Speaker also said that novels in particular should highlight humanity. "I hope that the art of fiction writing would move forward with this in mind and with the Buddhist philosophy as a basis," he said.
Opposition Leader Ranil Wickremesinghe noted that in the history of literature that goes back thousands of years the novel developed only in the last 200 to 300 years and later flourished with the invention of the printing press. He said that for modern Sri Lankan literature to succeed, the publishing industry must move forward with the times and adapt to the various emerging technologies such as the Internet all the while taking measures to develop existing technology such as paper and printing.
"Estimates have shown that so far 45 billion pages have been printed throughout the world. How many of these pages would have been printed here in Sri Lanka? The printing costs here are quite high, and now there's something called a cascading tax on printing, where 1% is charged on paper, 1% for printing, 1% for distributing, and so on. This does not bode well for the progress of local literature. We must look towards the future when developing literature," he said.
Several other works of fiction were recognized at Thursday's event. The second place was awarded to "Gangabada Aramaye Rathanapala Therunge Kathawasthuwa" (The story of Rathnapala Thero in the Gangabada Temple) by Aruna Shantha Gammana, while third place went for "Ekama Kaasiye Depaththa" (The two sides of the same coin) by Gunasiri Jayawardene. Cash prizes were awarded to all winners courtesy the Lankadeepa.
Director, Wijeya Newspapers Ltd, Sujan Wijewardene, grandson of D.R. Wijewardene made the welcome address while another grandson Ruwan Wijewardene, delivered the vote of thanks.