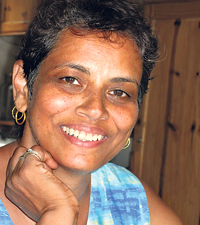 Menika van der Poorten
'Boys Own', a series of photographic portraits dealing with the passage to adolescence as seen through the eyes of photographer Menika van der Poorten is now on at the Red Dot Gallery, 36A, Baddegana Road South, Pita Kotte. Menika had her photographic studies at the John Cass School, London and University of Westminster, London.
She received the Bunka award 2008 earlier this month for special achievement in photography.The exhibition, her second solo effort in Sri Lanka is curated by Anoli Perera.
It is part of the Theertha exhibition season 2008 and will continue till November 26. Exhibition times: Monday to Wednesday- 10.30 a.m. to 5 p.m. and Sundays: 11 a.m. to 4.30 p.m.