The Sunday Times recently reported that the Queen had sent Sri Lanka citizen Margaret Ethel Silva a letter congratulating her on her 100th birthday.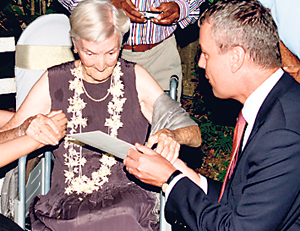 British High Commissioner Peter Hayes handing over the letter from the Queen to Margaret Silva at a celebration to mark her 100th b'day
I came to know this gracious lady and her husband, Dr. Lionel Silva, of Matara, when Matara invited Hambantota to play a cricket match, back in 1946. The Hambantota team was captained by B.J.H. Bahar (senior), and among the players were the Jayah brothers, the Burah brothers, Kulatunge, Rodrigo and myself.
The leading figure in organising the match was Excise Inspector Goonewardene, ably assisted by the D.R.O. Gunasekera. I do not remember the outcome of that match, but I distinctly remember the stentorian voice of Richard Kulatunge, attorney-at-law, as he shouted "Frivolous appeal", when Matara was fielding!
The schoolboys were on their best behaviour at the home of the good doctor, while the elders made merry with Bacchus.
The good lady Margaret continued to supply the boys with sardines on toast and other choice "bites", which were in fact meant for the elders, seated a little distance away.
A "little bird" whispered that when the good doctor visited the Matara Convent to see his children, he made mention of the beauty of a young teacher, with long hair. She was from Madiha, Matara. That particular lady, who is now on the wrong side of 70, is the mother of my children Gaithri, Danesh and Eyanthi.