Though four long years have passed since the tsunami of 2004, the Gintota Vidyalaya in Galle with a student population of over 2,500 children has yet to be rehabilitated. The 110- year-old school, one of the largest in the southern province boasts has one of the largest student population in the district and has a staff of 71 teachers.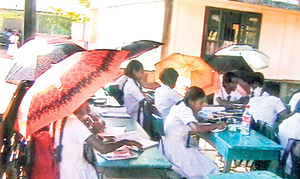 As the roof of the school is damaged students are forced to follow classes under open umbrellas to protect themselves from the blazing sun
According to provincial council sources the school is one of 45 schools selected for repair as its buildings were destroyed. While repairs to other schools have been completed, repairs to the Gintota Vidyalaya have not yet commenced.
Students still study in the temporary class rooms where roofing sheets are damaged and timbers are decayed. The situation is one of a disaster in the making.
The Rotary club earlier agreed to spend a sum up to 140 lakhs to repair the school, however as premises for the building had not been allocated, they opted to repair a school in the north east.
In an agreement with the Education department, UNICEF agreed to construct a new building costing Rs. 180 million on the same premises.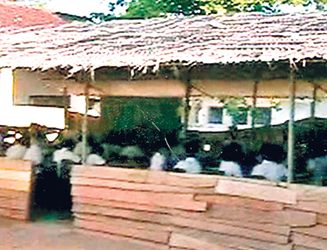 With some classrooms damaged by the tsunami and others demolished by contractors students are crowded into makeshift classrooms.
Accordingly a foundation stone was laid on 27th June last year and the parapet wall was constructed with the Chief Minister in attendance. Unfortunately there has been little progress since then.
Last year when an assurance given by a team of UNICEF officials to start work on the 11 selected schools did not materialise, protesting students obstructed traffic using burning tyres.
The team reassured students that work would commence in October this year, sadly this has not taken place. Today students are forced to study in overcrowded classrooms as the contractor has demolished 8 classrooms. Teachers and students alike are undergoing untold difficulties due to this situation.