Residents of Kohombawatte village in Chilaw staged a massive protest yesterday demanding authorities immediately investigate the quarrying for clay in a paddy field and transporting it in a way causing damage to the environment and also causing problems to paddy fields in the vicinity.
Protestors said although the licence had been issued to quarry in only two acres, the quarrying was being carried out in more than eight acres. They said that this was being done by using excavators and digging to a depth of 10-15 feet causing problems to adjacent paddy fields.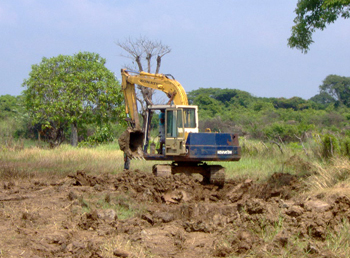 An excavator at work in the paddy field
The residents said paths in the village have been completely ruined due to lorries weighing more than 3.5 tons being used to transport the clay. The heavy vehicle drivers had later tried to attack the villagers who were involved in the protest, they said.
Ramya Swarnakanthi (35), a villager said politicians were not bothered about development in the area as it consisted of private roads but politicians and their supporters were allowed to use these roads transporting clay thereby damaging the roads.
North Western Provincial Council member K. Sanath Nishantha who visited the place requested relevant authorities to take steps to immediately look into whether environment pollution was being caused by this transport of clay which was for a project to develop fresh water breeding of prawns.
When contacted the North Western Province Fisheries Minister Anthony Victor Perera said his Ministry had issued a licence to start the project and has taken all possible steps to minimize pollution.