An alleged false customs declaration by the shipping agent of Prima flour company may lead to the forfeiture of Rs. 3.2 billion worth of wheat and the seizure of the vessel that carried the cargo to Trincomalee.
According to a customs inquiry, the government would have suffered a loss of more than Rs. 200 million, if the cargo had been cleared. The vessel and the wheat for Prima Ceylon Ltd, the biggest flour producer in Sri Lanka, were seized by the Customs at the Trincomalee harbour pending investigations.
Documents to clear the consignment shipped by the Canadian Wheat Board to Prima had been submitted before the shipment arrived at the Trincomalee harbour, though the usual practice was that the documents should be handed over after the shipment arrived. The documents were produced two days before the budget in which a cess was imposed on wheat imports.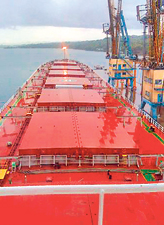 The controversial cargo at Trincomalee harbour
The ship MV Boreal was carrying 72,000 metric tonnes of wheat, of which some 9,000 metric tonnes were due to be unloaded in a port in Singapore, a port which the ship had passed by on the way to Colombo.
Customs officials said they found that the documents were not in order and ordered the seizure of the entire consignment valued at Rs. 3.2 billion and the ship.
After the detection of the 9,000 mt on the vessel was made, Prima Ltd has issued a certificate that the consignment was being supplied "free of charge' by Prima Ltd in Singapore to Prima Ceylon Ltd in keeping with an Agreement for Transshipment Services.
Initially, Customs officials attempting to visit the ship for inspection were not permitted by Prima officials in Trincomalee, compelling the officials to obtain a directive from the Government Agent Major General (Retired) Ranjith Silva who provided army and police escort to carry out the inspection. The shipment has been placed under the custody of the Government Agent as the investigations proceed. Major General Silva contacted by The Sunday Times yesterday declined to comment on the matter.
Customs officials are carrying out further inquiries into allegations of under valuation, violation of the import control act and violations of banking regulations. Under customs regulations, the entire consignment could be forfeited and the vessel confiscated for the offence.
Prima Ceylon Ltd General Manager Jay Ong declined to comment. The Sunday Times learns that while the investigations were pending Customs Director General S.A.C.S.W. Jayathilake ordered that the wheat should be unloaded into separate silos and not transferred to any other silos.
However, customs officials said that investigations would be difficult if the wheat was unloaded into silos.