Factional rivalry in the Tamil Makkal Viduthalai Pulikal widened yesterday after Friday's daylight slaying of Kumaraswamy Nandagopan alias Ragu, 38, in Athurugiriya.
He was both president of the TMVP and private secretary to Eastern Province Chief Minister Sivanesathurai Chandrakanthan alias Pillayan and returned to the country from Australia immediately prior to the Eastern Provincial Council elections in May.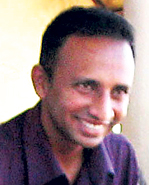 Ragu
Mr. Chandrakanthan hinted yesterday that the killing might be the work of the rival faction led by Karuna alias Vinayagamoorthy Muralitharan. However, Karuna denied the charge and said he believed it was the work of the LTTE. "They were exposed to the LTTE by failing to go with police protection provided to them," he said. "Elements who do not want to see the Eastern Provincial administration functioning are responsible for the assassination," Mr. Chandrakanthan told The Sunday Times.
Speaking on the telephone from Batticaloa he said, "Whenever such killings take place, they blame the LTTE. They were not responsible.""As a fighter I have fought many battles. I have handled various types of weapons. But the manner in which Ragu was shot, I can firmly say, it is not the work of the LTTE," he said.
Mr. Chandrakanthan said he arrived in Colombo on Thursday in the same car, a Volvo, with Ragu.
The next day he was having a meeting with Senior Presidential Advisor and MP, Basil Rajapaksa, when news arrived that Ragu had been shot dead.
Together with M.L.A.M. Hisbulla, Eastern Provincial Council Minister, he visited the scene. Police investigations had revealed that an armed group wearing Army type uniforms had stopped the Volvo in which Ragu was travelling at a lonely spot near the Steel Corporation plant at Oruwala. It was close to the Athurugiriya town.
The men in uniform had ordered the Volvo to stop. The driver had pulled it to a side and stopped. He lowered the shutter. One of the armed men walked up towards the driver's side and shot them both dead.
Ragu's remains were kept at the Mahajana College in Batticaloa. The body was later taken to his mother's residence in Kallady. He will be cremated today.