"I could get a decent sound from any instrument even if I manage to figure out the scale on it. That's all I do," said the very talented, young, multi-instrumentalist, Billy Fernando, modestly. Named 'Best Musician' at TNL Onstage 2002, and being the founder member of Ezra, who won the competition that year, Billy is by no means a stranger to the local music scene!
Encompassing all his knowledge and experience over the past 25 years, Billy has just completed his first solo album 'Yuwathiya,' comprising 10 Sinhala songs, which are a compilation of various musical styles and themes, varying from love to war. Billy has written most of the lyrics himself, with some of the content being translated directly from his own real life experiences. The lyrics will appeal mostly to the hearts of young lovers, with a song dedicated to a mother's love, and one written in aid of peace in our country, also being included in the album, he said. Wanting to break the norm of Hip-Hop and R&B, Billy hopes to introduce music with more intensity and emotion, with the help of his trusty guitar off which magical sounds arise! Two music videos from the album too, have been produced and are currently being aired both on TV and the radio.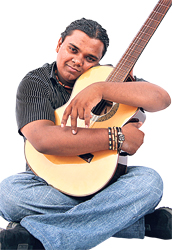 Born to the musical Tennyson family, Billy began his musical journey at a very young age of seven. Third generation of the veteran musician cum musical instrument manufacturer Tennyson Fernando, Billy's grandfather was also a renowned performer and music teacher, he said. Having absorbed all the music he grew up with, and together with his multiple talents and extensive musical knowledge, Billy has set quite a high standard for himself. Since then, his musical talents have been comprehensively tried, tested and proven to stand the test of time. Whilst continuing to excel in music, Billy also began to nurture a growing interest and talent to music composition.
Although still young, Billy's had quite a noteworthy music career from his school days, right up to now. At just seven, Billy was drumming at various events for his Alma Mater, St. Peter's College. He was also a trumpeter, and the leader of both the college eastern and western bands, subsequently. At 11, Billy performed with the Sri Lanka Philharmonic orchestra as a percussionist, making him the youngest musician to be part of the Orchestra to date. "My first experience in a band was with my family, which eventually performed for most of his school functions and events," he said. He was the Music Director for events organized by many schools, while still being a student. Billy also managed to take part in, and win various talent contests and competitions, such as Inter-School talent shows, Regional and All Island competitions and many more. It came as no surprise that Billy won the 'Peterite Best Musician of the Year' award in 1996.
However, "I first started to explore and challenge my musical prowess mainly when I formed 'Ezra' – the pioneers of 'Gospel Rock' in Sri Lanka. It was then that I first began to compose and perform many of my originals," he explained. Later, Billy started a rock band called 'Acid-Rain', which performed at various commercial functions, concerts and subsequently became the back-up band for popular Lankan duo 'Bathiya & Santhush (B&S). Furthermore, Billy joined B&S as their official drummer/guitarist/back-up vocalist, with whom he toured to about 14 countries around the globe. He was also bassist for 'Mahesh & Friends,' led by Mahesh Denipitiya, where he played Sri Lankan tunes with a touch of fusion, he elaborated. He's even performed together with the members of the A.R. Rahman Orchestra.
Currently, Billy is involved with a recording studio 'Stikfigure' as Sound Engineer and Composer. Whilst producing music albums at the studio, he is also the Producer of soundtracks for radio and TV commercials. Also, keeping the family business going, he is also a musical instrument manufacturer by nature and is now also the Proprietor of Tennyson Guitars. He also gives guitar and drums classes at the Tennyson School of Music which he started in 2001. (Visit www.billymusic.com for more information.)
"I would like to see Sri Lanka enjoy and embrace music at its highest standards and I would also like to do my best to enhance and help raise the bar of music in the local music industry, by composing and producing original music to the best of my abilities," said the versatile musician passionately.
'Yuwathiya,' released under the M-Entertainment label, will be launched at an invitees only concert on November 16, at 6.30 p.m., at the British School Auditorium. Fans and music lovers can call 5641919 for invites. The album will be available island-wide as audio CDs and cassettes.