Tropic Thunder (2008)
Cast: Ben Stiller, Jack Black, Robert Downey Jr., Tom Cruise, Matthew McConaughey, Nick Nolte
Director: Ben Stiller
Running Time: 107 mins
The latest Ben Stiller film centres around a group of fussy and spoilt actors who are brought to Vietnam to shoot an expensive war film on legendary John "Four Leaf" Tayback. After a series of costly setbacks on the set, the five actors are left in Vietnam by the rest of the disgruntled crew to fend for themselves in order to capture some true-to-life imagery. The plan however goes horribly wrong when the goons of a local drug camp get involved.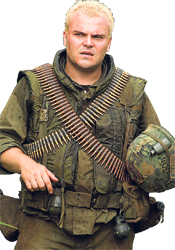 There was certainly a great deal of expectation on my part surrounding this film as it received generally positive reviews and was greatly successful in the box office. It was one to tip The Dark Knight off of its number one spot on the box office and is up to date one of Ben Stiller's (Meet the Parents, Zoolander) most successful films and here's some trivia for you, this is only the second film that either Jack Black (Nacho Libre, School of Rock) or Robert Downey (Iron Man, Zodiac) have starred in that has grossed over $100 million in the US. Personally I enjoy most of Stiller's comedies and was looking forward to a laugh fest especially with the likes of a comedic ensemble cast including Jack Black and the sarcastic Downey Jr. The fact that Downey was portraying a black American was especially interesting and unconventional and promised to bring out plenty of laughs from the crowd. Apart from this there were performances by Tom Cruise and Matthew McConaughey while Jennifer Love-Hewitt, Jon Voight, Tyra Banks and Tobey Maguire make brief appearances as themselves.
The film certainly did live up to its expectations as it was a complete laugh riot. Plenty of puns, sarcasm and racial humour coupled with loads of action and explosions, while the script was actually quite funny on its own. Unlike most of the comedies out this year Tropic Thunder actually felt genuinely comic instead of having to resort to slapstick humour or Will Ferrell. Ben Stiller was his usual quirky self with great efficiency and his performance certainly brought to memory his work in Zoolander. Jack Black was overshadowed to say the least but to be fair to him his role was not prominent. Robert Downey Jr was certainly the real star of the show in his portrayal of a five time Academy award winning Australian actor who in turn portrays a African American soldier in the team. His performance was no short of spectacular and memorable. With his latest success in Iron Man this film was undoubtedly a new genre for Downey but he certainly got into it like a duck to water. Special mention goes to Tom Cruise who plays an ill-tempered, foul-mouthed executive who's adamant on getting the film done no matter what it takes. Cruise isn't usually associated with comedy but he is hilarious in his performance and proves to be a great supporting character in the film.
| | |
| --- | --- |
| | |
Stiller certainly knows his way around directing comedies, boasting the likes of Zoolander and 1996's the Cable Guy in his directorial career but Tropic Thunder has to be his best effort by light-years. The film isn't merely hilarious it is in fact a pretty decent directorial job. Even though it took a leaf or may I say a tree out of the books of some of the great Vietnam films such as Kubrick's Full Metal Jacket and Oliver Stone's Platoon, I believe it takes a certain level of taste and tact to put it into a film without making it just about being a spoof. In fact the film is never a spoof of war films but has a completely independent storyline even though classic scenes such as Willem Dafoe's defining moment in Platoon is depicted more than once.
The film is certainly one to look out for and definitely worth a watch but keep it away from the little ones. In the midst of comedies such as The Love Guru and You Don't Mess With The Zohan which were just downright sickening, finally one with some substance which will not be forgotten in a hurry. Tropic Thunder certainly deserves a spot on the list of must-watch movies of 2008.
Send your opinions, enquiries and review requests to moviecritique.mm@gmail.com