I have a dream and it is this: One day Neil Gaiman and Alan Moore will come to Sri Lanka for a Comic Book Convention. There will be many other people who love comic books at this convention, and everyone will recognize my Rorschach costume. Alan will be wild-eyed and covered in hair, and Neil will be all in black. They'll be selling comics by the kilogram, and we will all talk for hours and hours and hours.
The reason I'm telling you this, is that if you read these books, you can come too. I know that this might not be particularly appealing right now, what with heavyweights like Germaine Greer making an appearance at the Galle Literary Festival. But between Art Spiegelman, Neil Gaiman, and Alan Moore there's a Pulitzer Prize, a World Fantasy Award and a Hugo Award; so in some ways it's ridiculous to start this story by telling you that there are "serious" comics out there, ones that would give Greer a run for her money. But there are and you must read them at least thrice: once for the words, once for the pictures, and once for both. This week I intend, somewhat belatedly its true, to read The Dark Knight Returns by Frank Miller, but in the meantime, shall we make sure we're all on the same page?

Maus: A Survivor's Tale by Art Spiegelman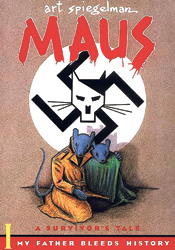 Sometimes it's difficult to fully comprehend how ghastly the holocaust really was – it has a numbing effect, and you can feel yourself losing sight of the people in the face of all those emaciated bodies going to the gas chambers, those nameless corpses in mass graves. If writing about it is difficult, imagine creating a comic book where people were replaced with cats, mice and dogs; imagine this serving as biography of a holocaust survivor.
Preposterous though it may seem, Spiegelman did that with Maus, and he did it so well they gave him the Pulitzer Prize. With pencil and charcoal, Art captures his own strained relationship with his father, even as he narrates the story of Vladek Spiegelman and his wife and how they survived Hitler's Europe; that he does this with humour and a complete lack of pretentiousness is part of what makes Maus such a classic. Go straight for The Complete Maus, which brings together both Volume 1 My Father Bleeds History and Volume II And Here My Troubles Began. A poignant tale within a tale, Maus documents one of the most grisly events of the 20th century with a rare grace and complete honesty, and the result is a story not just of survival but what it means to survive the survivors.
The Watchmen – Alan Moore
Watchmen, is just incredibly ambitious. It's gorgeous read, and in my opinion, Moore's best. A complex murder mystery, the book is set in a time where cold war tensions run high. The comic does have its superheroes, but they're more real than you could ever imagine: An aging, chubby Nite Owl likes to meet old friends for a chat, the gloriously sociopathic Rorschach still insists on taking the law into his own hands, and a nearly omnipotent, entirely inscrutable Dr. Manhattan has become the government's most effective deterrent. Watchmen opens with the murder of the Comedian, who we realise is the first victim of a terrifying conspiracy, one that will force the surviving "heroes" out of hiding and into action.
Interspersed with text excerpts from other fictitious books, articles, letters, interviews and studies featuring Moore's characters, Watchmen also includes a wonderful example of metafiction – a comic book within a comic book that reflects beautifully on the happenings in the bigger story. Throughout, Moore's psychological realism is brutal enough to make you wince. Dave Gibbons' artwork shifts effortlessly between the many intertwined tales and employs a cinematic style riddled with symbolism. This is simply a stunning graphic novel. More than 20 years after it was first published it remains one of the undisputed jewels of the genre it helped popularise.
Persepolis by Marjane Satrapi
In bold black and white, Satrapi creates an appealingly impressionistic memoir of her childhood in Iran, before, during and after the Islamic revolution of 1979. The Complete Persepolis is divided into two books – The Story of a Childhood and The Story of a Return – and in each Satrapi manages to place her own personal life into the larger political context of her country.
As a child, she is raised in a secular home, but as matters or religion and state become increasingly confused, so does her own understanding of her place in the world. Rooted in her Persian heritage, Satrapi details her time away from Iran, where she struggles to maintain her tenuous bonds with her homeland – only to find on her return that home is not the haven she imagined it would be. Satrapi has since made a film of this award-winning comic.
The Sandman – Neil Gaiman
Over the course of 10 books, I have fallen irreversibly in love with Dream of The Endless. Along with his kin, Delirium, Death, Despair, Destiny, Destruction and Desire, Dream inhabits a world that exists beyond and beneath and in the human world that we know. Famously, in his forward to Endless Nights (a follow-up to the Sandman series) Gaiman himself summarizes the books that came before with the line: "The Lord of Dreams learns that one must change or die, and makes his decision." With that decision at its heart, the sprawling beast that is The Sandman puts out tentacles in a hundred different directions; it swims in myth and lore, dines on popular culture, and excretes erudite literature. It's playful and intelligent, and scary enough to make you pee in your pants.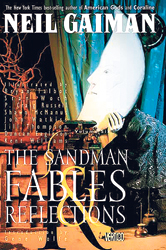 Where do you start? An obvious place would be at the beginning - with 'Preludes and Nocturnes.' It's a tightly paced, intense collection. But 24 Hours, one of the last stories in Preludes, had me shutting my eyes, only to discover that the horrible scene that was playing out on paper was tattooed across the inside of my closed eyelids. Doll's House did have some of the same, except here living nightmares were somehow offset by the novelty of a serial killer convention.
Dream Country, the third collection in the series has some of my favourite stories including one titled A Midsummer Night's Dream in which Shakespeare stages his play for a very unusual audience. Read Season of Mists for Lucifer (who was good enough to inspire his own comic) and Fables and Reflections for Gaiman's most obvious foray into politics. The light-hearted yet poignant Three Septembers and a January appears early in Fables and Reflections and features the (mostly true) history of Joshua Abraham Norton, famous now as the first, last and only Emperor of the United States of America. Thermidor casts Lady Johanna Constantine as an able heroine in the tumultuous aftermath of the French Revolution, but it is the vision of the city of Baghdad in Ramadan that lingers after you close the book.
It's difficult to convey the sheer pleasure I felt while reading The Sandman set. I can only say this: Read them and then read them again. They just keep getting better.