With his latest 'Gee Prasthara Shathakaya-3' (Musical Notation for 100 songs), young musician Anura Wanniarachchi sets a record in presenting notations for 300 Sri Lankan songs.
With the demand by the music fans and learners, Anura released a collection of 100 songs including golden oldies and popular songs by the present generation. Two of his early collections published by Malpiyali Pulishers, Dankotuwa became immensely popular and had several reprints.
With correct music notations with chords, 'Gee Prasthara Shathakaya-3', Anura has presented the easy way to play correct notations and chords which is a difficult task specially for beginners of organ and guitar. Anura's released his latest at the International Book Fair at the BMICH.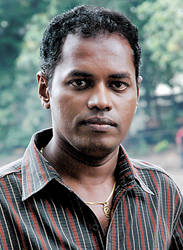 Young musician Anura Wanniarachchi
Most of the songs were earlier published in 'Ridma' supplement issued free with 'Irida Lakbima' Sinhala weekend newspaper and Anura also has included several songs which are yet to be published in the newspaper.
'I had to release it with much demand by the musicians who are mostly organists, guitarists and violinists' Anura said. "However it is very popular among many a musician as it contains popular songs of yesteryear along with their original singers, lyricists and musicians," Anura added. The collection with a variety has songs from different generations of singers including W. D. Amaradeva, Sanath Nandasiri, Nanda Malani, Sunil Edirisinghe, Gunadasa Kapuge, H. R. Jothipala, C.T. Fernando, T. M. Jayaratne. Milton Mallawarachchi, Edward Jayakody and many more.
'I made it a point to add some of the old hits which became popular among today's generation with different competition and television shows' Anura said describing his selection.
Anura, a B Grade singer at the Sri Lanka Broadcasting Corporation (SLBC) is a talented keyboard player and a guitarist and he had played in several musical bands. Hailing from Kalawana he had his first public appearance in 'Muthuhara' children's programme telecast over Rupavahinin in 1987 and he later appeared in a number of popular musical programmes like 'Sarasavi Perahera', 'Methsihilel' and 'Nidahas Uyana'.
Anura studied music at Kalawana National School under the guidance of Sarath Bamunusinghe and later became a student of Professor Sanath Nandasiri. Anura did his diploma in music and completed the Visharadha examination at the Academy of Music in Lucknow, India in 1995-1996. Anura has composed music for a number of songs and he is busy getting ready for his collection of songs by Senaka Mihindukulasuriya, a Sri Lankan musician from California.
To the melodies of Senaka, Anura is to direct music for the collection of songs which is to be released soon. In addition Anura also shares his knowledge with aspiring musicians who are interested in learning to play the organ. Working as a layout designer attached to Sumathi Newspapers limited, Anura can conduct classes only during the weekends at his residence at no 14, Sangabo Mawatha, Galawilawatta, Homagama.