The Heritage city, Galle is gone on gala for the premier international film festival to be held next year.
The film screenings, talks and discussion on cinema, dinners and cocktails are held over two weekends on October 25 and 26 and November 1 and 2 as part of major fund raiser for the biggest international event in the history of country's 60-year-old film industry.
Having opened with screening of Paul Schrader's "Adam Resurrected" and William Dieterle's "Elephant Walk" on Saturday October 25, today's October 26 film shows highlights 'Sri Lankan classics' at Hall de Galle and the screening will be on free of charge.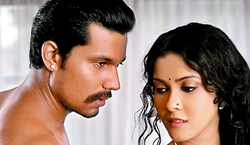 'Rang Rasiya'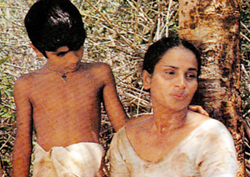 Swarna in 'Sagara Jalaya'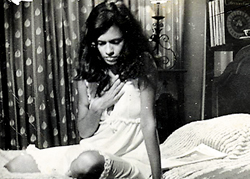 A scene from 'Thunweni Yamaya'
At 10:30 am Dr. Lester James Peries' 'Beddegama' (Village in the Jungle) (1980) will be screened while 1 pm Prasanna Vithanage's 'Ira Mediyama' (August Sun). At 4. 15 pm Dharmasiri Bandaranayeke's 'Thunveni Yamaya'(1983) (Third Part of the Night) will be screened while Sumithra Peries' 'Sagara Jalaya' (1988) (Letter written in the sand) will be screened at 6 pm. At 8.15 pm Vimukthi Jayasundara's 'Sulanga Enu Pinisa (The Forsaken Land) which was awarded at the Cannes film festival will be screened.
On the next week end more Sri Lankan classics are to be screened with repeat show of 'Beddegama' at 10.30 on November 1 and Ms. Sumithra Peries' 'Sakman Maluwa' (The Garden) at 1 pm and Asoka Handagama's 'Thani Thatuwen Piyabanna' (Flying with one wing) at 3.15 pm.
At 7 pm on the same day will have the Asian Premiere of Ketan Mehta's "Rang Rasiya"; "Colours of Passion" at Hall de Galle. The Asian premiere will be preceded by cocktails at the Amangalla Hotel and followed by a gala dinner at The Lighthouse Hotel. The grande finale will be a "Rang Rasiya" (Colours of Passion) themed Bollywood party worthy of an oscar celebration at the boutique hotel, Tamarind Hill and tickets can be purchased at 33 Lighthouse Street in the Fort.
"We are delighted that Ketan Mehta has selected Galle for his Asian premiere," says Festival Director Boodee Keethisena, "We hope that this launch event and next years film festival will ignite a huge interest in the film industry. We want to encourage all Sri Lankan directors to raise the profile of Sri Lankan cinema and we hope that this event will also encourage directors from overseas to exploit the huge talent available in Sri Lanka for film production."
Having had its world premiere of "Rang Rasiya" (Colours of Passion) in London, director Ketan Mehta described his choice to select Galle as the location of his Asian premiere, "I am very excited to be coming to Galle,". He is to be accompanied by his cast Randeep Hooda, Nandana Sen and Ferena Wazeir.
Sunday November 2 at 11 am UNDP film on 'Hunger' will be screened followed by a panel discussion at Hall de Galle. At 2 pm screening of two Sri Lankan children's films and a documentary produced by Ihalagoda School, Sri Lanka and Tibshelf School, UK.
The United Nations Development Programme's (UNDP) film, Food For Thought is part of our Universal Forum focussing on the ways we can raise issues, change agendas and effect real change in the world.
Food For Thought, about hunger, is part of our drive to show films that will open the eyes and hearts of anybody interested to world issues and the personal stories that accompany them. Meanwhile Sri Lanka's First Lady, Shiranthi Rajapaksa is to be patron of the Galle Film Festival which is to be held in early 2009.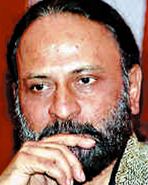 Ketan Mehta
Other patrons of the festival are Her Excellency the Governor of the Southern Province, Mrs Balasuriya, leading film makers Lester James Peries and Sumitra Peries and actor and special film advisor to the President, Ravindra Randeniya.
"We are honoured to have these patrons," says festival director and film director Boodee Keerthisena, "We hope that the Galle Film Festival will stimulate interest in Sri Lankan made films, that it will attract film makers from overseas to show their films and even to make films in this very photogenic country. We hope it will inspire a new generation of film lovers."
Co-founder of the festival, Damita Nikapota says, "To encourage the local film industry we will be announcing the inauguration of the Golden Elephant Award; an annual award for promising young Sri Lankan film directors."