Once again powerful businessman Harry Jayawardena was blocked this week in his bid to take control of Commercial Bank and oust its chairman Mahendra Amarasuriya following the Appeal Court ruling on Friday.
The Appeal Court declared that his majority shareholding would be restricted to 10 percent (voting rights) until a pending case over the dispute was over.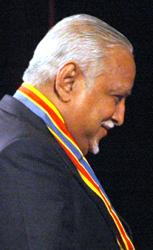 Harry Jayawardena
In a three-year-old case filed in October 2005, unions representing the Association of Commercial Bank Executives and the Ceylon Bank Employees Union, are objecting to Mr Jayawardena's takeover attempt saying that – among other things – 'DFCC with a 29.5 percent shareholding in Commercial Bank is the single largest shareholder making the latter bank vulnerable to the predatory strategies of the Stassens/HNB Group'.
Mr Jayawardena controls 42.6 percent of Commercial Bank from direct and indirect stakes through a combination of DFCC, HNB, Sri Lanka Insurance, Stassens, Lanka Milk Foods, etc – all of which he directly controls.
The case has been swinging from one court to the other in actions and counter-actions since October 2005, initially to stall an Extraordinary General Meeting (EGM) on November 2, 2005 where Mr Amarasuriya was to have been ousted by shareholders backed by Mr Jayawardena. An injunction was obtained by the unions on the day of the meeting and Mr Jayawardena was compelled to exercise only 10 percent of voting rights. Mr Amarasuriya still continues as the Commercial Bank chairman.Mr Jayawardena has also contested the issue at every stage.
However on Friday, the petitioner-unions won an order from the Appeal Court where the stay order barring Mr Jayawardena from exercising his 42.6 percent stake (through connected parties) would be in force till the original District Court case over the shareholdings is completed.
Another significant development was that DFCC Chairman Dr Nihal Jinasena was forced by Mr Jayawardena to resign, as stated in the petition, as he (Dr. Jinasena) and the board of directors voted to support Mr Amarasuriya's re-election against Mr Jayawardena's wishes.
The case in question is where the petitioners are seeking an order from court declaring that the shares held by DFCC and others exceeding 10 percent are unlawful and should be declared null and void.
Presently, under Section 12 of the Banking Act an individual, partnership or corporate body shall not either directly or indirectly or through a nominee or acting in concert with any other individual, partnership or corporate body acquire a material interest in a licensed commercial bank (LCB) without the prior written approval of the Monetary Board. The threshold limit in the Act is 10 percent.