Heavy rains and flooding over the past two weeks have displaced some 12,400 families in the Puttalam district. Flooding has affected homes in 13 of the district's 16 Pradeshiya Sabha areas.
Twenty-one sluice gates in the Tabbowa tank are being opened to let out the excess water that is causing floods in the villages of Thambapanniya, Thewanuwara, Mailankulama and Pawattamadu. The worst-hit area is Mundel, where 4,000 families have had to leave their homes. The displaced families are being accommodated in 12 temporary camps. All displaced persons are being provided with regular meals, according to district secretary Kingsley Fernando.
Of the 146 Muslim refugee camps in the area, 80 are reported to be inundated, forcing some 1,000 families to move to other camps. All schools have remained closed over the past week. Five houses were completely destroyed by rising flood waters, and another 13 have been partially damaged.
Meanwhile, rough seas have destroyed 23 houses in the south of Marawila. The occupants of these houses are being provided with temporary accommodation, while the Coast Conservation Department is taking action to protect the coastal belt in this area.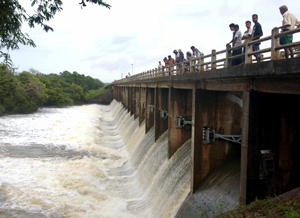 Sluice gates are being opened to let out excess water in the Tabbowa tank.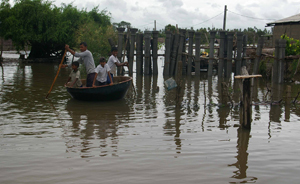 Some 12,400 families have been displaced in Puttalam