Every year, when the rains begin, it is the same scenario for thousands of unfortunate people living in flood-prone areas: one village after another comes under water, thousands are rendered homeless, and help is often slow to arrive, with residents becoming increasingly frustrated with officials.
One especially hard-hit district is Gampaha, where some 11,000 families, or 60,000 people, have been forced to live in makeshift shelters with whatever belongings they can hold on to, while they wait out the next few days or weeks, living on hand-outs and charity and hoping for the weather to improve.
An estimated 150,000 persons around the country have been affected by rains and floods, and the number is expected to increase as the rains continue. The Meteorology Department's forecast for the next few days is more rain and little sunshine.
On Friday, the number of persons affected by the rains stood at 60,000 in Gampaha; 48,387 in Puttalam; 2,696 in Galle; 1,184 in Kalutara; 6,610 in Matara; 352 in Colombo, and 11 in Kurunegala, according to Disaster Relief Centre national co-ordinator Keerthi Ekanayake.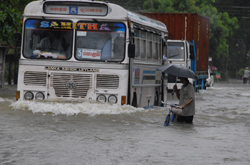 Roads turn into rivers as pedestrians wade waist-deep in water and vehicles strain to move forward; floodwaters sweep across road near bridge at Kotugoda.
The displaced persons are being temporarily housed in schools, places of religious worship and government buildings, Mr. Ekanayake told The Sunday Times. He said the figures could rise in the coming days if the rains continued.
Displaced families in Gampaha are being housed in 11 temporary shelters and being provided with cooked meals, according to the district's Government Agent V. K. Ruparatna. So far there have been no reports of a breakout of disease or sickness, but the authorities are prepared for such an eventuality, he said.
According to Mr. Ruparatne, many of the displaced families should take some responsibility for their current plight; they had put up homes on marshland, knowing well that these areas were vulnerable to flooding during heavy rains.
UNP-led Wattala Pradeshiya Sabha chairman Diluksha de Alwis said his office was prepared to disburse up to Rs. 500,000 for the relief effort, should the authorities be slow to respond to the current crisis.
Meanwhile, displaced families face another threat – this time from humans: looters and thieves are quick to exploit such situations.
On Wednesday night, unknown persons broke into two homes in the village of Karunagama, in Wattala, and stole goods. That night the occupants of the house were taking refuge in a nearby shelter.
"This is not an isolated incident – such things always happen whenever there is flooding or a natural disaster, and the people are away from their homes at night," Village Development Committee chairman H. M. Ariyadasa told The Sunday Times.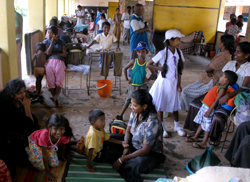 Displaced families from the village of Karunagama, in Kerawalapitiya, wait for the waters to recede as they take shelter at theVidyaloka Maha Vidyala.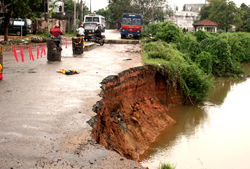 Incessant rains have washed out a road in Kohilawatte.
He said the villagers know the identity of the culprits but are afraid to name names as these persons have underworld connections, and in some cases even enjoy a degree of low-level political protection.
Meanwhile, residents of Molawatte, in Opatha, Kotugoda, say their neighbourhood started going under water only after a factory was set up in the vicinity. They say the flooding is largely the result of marshland being filled for setting up a privately owned tyre-manufacturing facility.
"The factory owners showed not the least consideration for the people of the area when they moved in their heavy machinery to fill the surrounding marshlands, and they obviously were not in the least bit bothered about such things as environmental impact," said resident Enrico da Silva, who has been living in the neighbourhood for more than two decades.
"We never had this problem in the past. All this flooding started after the factory came up," Mr. da Silva said. "Now, every time it rains, water starts filling our front lawn, and in no time the whole house in inundated."
Mr. da Silva said four semi-detached rooms at the back of his property are more than four feet deep in water. These rooms are occupied by employees of the tyre factory. The boarders are now being accommodated in the hall of the main house, where they were being forced to "rough it out", Mr. da Silva said.
Meanwhile, the principal of a school in Hendala is sorry to see how the school and its facilities are being misused by families temporarily housed on the school premises. The compound is littered with rubbish and the toilets are in a shocking state, said Kerawalapitiya Vidyaloka Maha Vidyalaya principal Rev. Higgoda Saddhananda Nayaka Thera.
The Thera, who is the chief incumbent of the Hendala Purana Vihara, said he was also concerned about security. He said there was a mix of ethnic groups in the community, and that a large number of people from the North had moved in in recent times.
"Certainly, the security factor must not be ignored in these anxious times," the principal said. "The school gate is kept wide open at all times, and there are reports that undesirables are loitering in the area after dusk. Some of them come in auto rickshaws.
"This is a poor school, and as principal I am naturally very concerned about what happens here and the way the school is being misused. We have discussed the matter with the relevant authorities. I hope they will take some action soon," the Thera said.
Water-borne diseases follow floods, warns Health Ministry
A definite increase in water-borne diseases is expected following the recent floods, a senior officer of the Health Ministry's Epidemiology Unit said.
Dr. Sudath Pieris told The Sunday Times the possibility of an increase in typhoid fever, hepatitis, cholera, and leptopirosis (rat fever) can be expected within one or two weeks of the floods which has severely affected most districts.
He said although a few cases of typhoid fever are reported at present the number is continuously increasing and critical measures may help to reduce the number.
"All these diseases are water and food borne diseases so the public should be more concerned over their food and water intake. Good sanitation and hygiene are the preventive measures that can be taken to prevent typhoid," he said.
Dr. Pieris said more than 3000 cases of typhoid fever are reported throughout the year and an increase is seen during times of floods, adding that as it is an disease endemic to Sri Lanka. The highest number of cases is reported in the five to 19 year category.