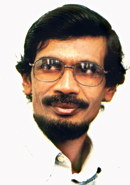 Tilvin Silva
The JVP yesterday rejected an invitation by President Mahinda Rajapaksa to discuss the current situation in the country.
In a letter addressed to the President, JVP General Secretary Tilvin Silva said the invitation did not specify any particular topic though it had expressed a wish to discuss the "current situation of the country".
Mr. Silva said the JVP saw no reason to talk to a government that had not listened to its suggestions on offering relief to the suffering masses.
On Friday, President Rajapaksa met opposition leader Ranil Wickremesinghe during which he reiterated that there was no ethnic conflict in the country and that the military operations were designed to disarm the LTTE, a statement from President's office said.