"Even though Sri Lanka will not have a direct financial crisis, Sri Lanka will definitely be impacted by the slowdown of the global economy," says Tony Weeresinghe, Managing Director and CEO of Millennium IT, a premier technology solutions provider serving the global capital market industry. "Inter bank borrowing rates in the short-term, have risen sharply. As a result, banks have fewer funds to lend to individuals and businesses.
This means slower businesses growth and lower demand for goods and services. As many countries like Sri Lanka are supplying goods and services to western buyers, the lower demand will trickle down to all parts of the world," he points out in comments issued through a press release by the company. "For instance, if people don't buy shirts, the demand for shirts will drop. Therefore manufacturing orders to Sri Lanka, for shirts, will drop. This means businesses will have to downsize for mere existence and it's the same for the service industry."
He said IT work outsourced to countries like Sri Lanka will drop, as there is reduced demand. "Furthermore, if you were servicing larger banks, such as Lehman Brothers, you will no longer have business, as these institutions have collapsed," he says. Governments have already taken action to build investor confidence and stimulate economies. The US Congress approved a US$ 700 billion rescue package to restore confidence in the financial system and the US Federal Reserve cut interest rates. The Bank of England, and The European Central Bank have followed suit. However, Mr Weeresinghe mentions that the problem is not near to being over.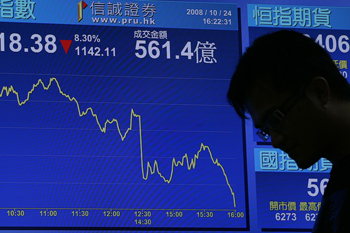 A man is silhouetted in front of a display showing the Hang Seng Index in Hong Kong . Hong Kong shares slid 8.3 percent to a four-year low on Friday, with global lender HSBC posting its biggest one-day loss since the Asian financial crisis, on a gloomy outlook for corporate earnings. REUTERS
"What can be seen now, are signs of a spillover from the financial crisis to the real economy. For instance, auto financing is less available and car sales have dropped, approvals for home mortgages have got much tougher and credit card interest rates have gone up," he notes in the press statement, adding that the situation is not expected to change any time soon. "I personally think this will take 12 to 15 months to stabilise. While financial risks would have to be resolved by "concentrated" policy activism, the economic picture is unlikely to reverse quickly," says Weeresinghe.
Emerging opportunities
Like most situations however, the global economic crisis also has two sides to it. Despite its potential threats to IT and BPO service providers in Sri Lanka, the changing economic conditions are also generating new opportunities.
For instance, MillenniuIT is tapping into new opportunities in capital markets that are emerging because of the changing economic environment. MillenniumIT's Chief Deployment Officer, Hemantha Jayawardena says the volatility in financial markets have pushed up trading volumes at stock markets, generating an opportunity to create new systems to deal with the volume surge. "Within one year, the order volumes handled by the trading system supplied by MillenniumIT to the American Stock Exchange, went from three million orders per day, to 30 million and within the next year it increased to over 60 million orders per day. So in the last two years the volumes increased 20 fold," he is quoted as saying in the same press statement.
This massive rise in stock market activity is attributed to new regulations in the US and also the prevailing market uncertainties. "People are buying and selling a lot because of the crisis. New regulations have also increased order traffic. So the stock exchanges are looking to increase their system capacities. This means there is a demand for new systems that can deal with the ever increasing capacity requirements," he said. More regulatory changes governing the financial markets are also in the offing in the US and EU, to limit the. kind of volatility seen now. This means demand from stock exchanges, for more cost effective and flexible systems, will actually increase creating numerous opportunities for companies like Millennium IT. Mr. Jayawardena also points out that many other opportunities will also emerge with the changing global economic landscape for IT and BPO service providers, but companies need to watch the market to spot the opportunities.