Sri Lanka took a historic step on Wednesday introducing video conferencing technology to hear evidence in a court case for the first time even in South Asia.
Under a state-of-the-art automation facility, US national, John Sampson, Vice President of New Direks Incorporation, New York, second respondent in a money recovery case filed by Ruhunu Ware Private Ltd, gave evidence for around two hours and was also cross examined – through video - by the counsels for the plaintiff and the defendant. The case was taken up on Wednesday morning before Commercial High Court Judge, K.T. Chitrasiri. Supreme Court Chief Justice Sarath N Silva was present in court.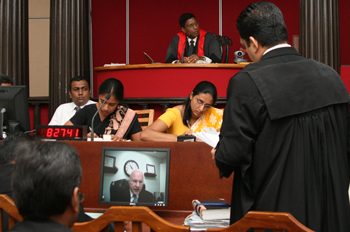 The proceedings
Sri Lanka has adopted this new system to be used in court proceedings to overcome the difficulties encountered when evidence has to be obtained from respondents or foreigners living overseas. The case related to the export of garments to the US.
Giving evidence, Mr Sampson accepted that his company had undertaken the task of handling and transportation of 19, 552 pieces of readymade garments with a value of US$ 71,276.22 exported by Ruhunu Ware to Natural High Company under the Document on Acceptance Procedure on 12-02 2004.
According to this agreement Ruhunu Ware handed over the consignment to the 1st respondent Freight Links International Pvt Ltd, local agents of New Direks Incorporation.
The plaintiff says that the 1st or 2nd respondents had released the consignment to Natural High Company or to a 3rd party on 04-03-2004 without submitting original documents violating their agreement. They also failed to pay the value of ready made garments amounting to US$ 71,276.22. The plaintiff seeks a ruling from court for an order to the respondents to pay this amount together with 18 % interest per annum for the period of 12-02-2004 to the date of delivery of the judgment. Mr Sampson told court that the cargo had been cleared by a ship broker C. A. Powel and he was totally unaware on what had happened to it after that. Further hearing was put off for November 26.