HR guru Dave Ulrich, Professor of Business at the Michigan University, on Friday drew a full house of participants that braved rough weather and traffic jams, to attend a presentation on human resources titled 'Future Proof Your HR', at the Water's Edge Hotel at Battaramulla.
Prof. Ulrich, in his presentation, stressed that the most important aspect of human resources management is to "create value" for organisations, public or private, to make them successful. He pointed out that the key component in transforming from a resource based economy to a knowledge based-economy, is the human resources of organisations.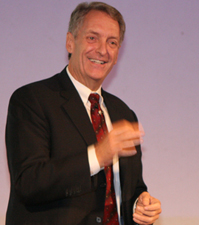 Prof. Dave Ulrich
"Our job is to create value. If human resources do not create value, we will not be successful. So we need to find ways to create value for our organisations," said Prof Ulrich.
The visiting human resources guru, went onto explain a model of value generation based on five factors and 14 criteria. He noted that human resources management is broader than a simple administrative function and stressed on the need to align human resources with management goals and organisation strategies. This process includes understanding external business realities, creating investor tangibles and building long term connections with target customers.
"If human resource activities are not linked with external customers our job of creating value is not successful. So we need to design human resource training to align with external customer expectations. The human resource work must conform to customer expectations to future proof your human resources," he said.
Prof. Ulrich's visit and lecture to Sri Lanka was organised by the Chartered Institute of Management Accountants (CIMA) of Sri Lanka and the Institute of Personnel Management (IPM) in collaboration with the Association of Human Resources Professionals, the Employers Federation of Ceylon, the Federation of Chambers of Commerce and Industry of Sri Lanka and Organisation of Professional Associations.