Several advertising industry heavyweights turned out on Monday evening for the launch of the Sri Lanka Professional Advertising and Creativity School (SPAACS), Sri Lanka's latest academic institution with the goal of 'creating a new generation of advertising professionals'.
The event featured the likes of Imal Fonseka (President of the International Advertising Association's Sri Lanka branch), Laila Gunesekera Martenstyn (President of the Association of Accredited Advertising Agencies, Sri Lanka), Varuni Amunugama Fernando, Dilith Jayaweera, Dileepa Abeysekara, Rohan Rajaratnam, Michael Holsinger, Udaya Tennekoon, Suren de Silva, Upali Herath, Ravi and Janaki Bamunusinghe, and Neelani Goonetillake, many of whom have been advertised as guest lecturers for the offered courses.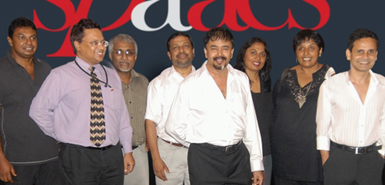 The team of lecturers
Launched at its new premises at No. 4 Jayaratne Mawatha, Colombo 5, the birth of this institution proved a fiery moment in the history of Sri Lankan advertising as fireworks heralded the launch with the SPAACS logo emerging from a cascade of smoke and flame. SPAACS, part of the Triad group, will be headed by advertising industry veteran Chaga Graham, and has the stated objective of "bring[ing] in new blood to the advertising industry" while, for students, "enhanc[ing] their potential for creativity and strategic thinking, while helping them reach their goals to become a growing success".
SPAACS courses are offered to two audiences: The first being those who want entry into the advertising field, who are offered a 14-lesson Basic Introduction course featuring a diverse range of subject matter such as Clients and Brands, Briefs, Client Meetings, Strategic Planning, Conceptualization & Creative Development, Design & Art Direction, Media Management, Direct Marketing, Event Management, Public Relations, Digital Imaging, and Web & IT.
SPAACS also offers advanced courses for current industry professionals to update their knowledge in areas such as Copywriting, Art Direction, Photography, Typography, Strategic Planning, Communication Skills, Digital Imaging, Public Relations, Media Planning, Buying and Evaluation, and Sinhala Idioms and Ideating.