Cargills (Ceylon) PLC, this week said cricketing legend Sanath Jayasuriya is its brand ambassador for Food City and Cargills Magic ice cream.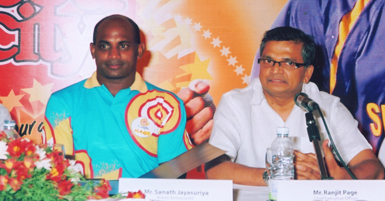 Picture shows Sanath Jayasuriya and Ranjit Page at the media briefing.
Company CEO Ranjit Page said, "As Sri Lankans we are proud of Sanath. Proud of the innovation and vibrancy he has brought to the cricket field. The dedication of Cargills Magic and Cargills Food City to continuously innovate towards giving more value to the consumer at an affordable price placing the needs of our nation first puts this great cricketer and Cargills, a responsible corporate, on the same platform."
In a press release issued by the company, Jayasuriya said he looked forward to working with Cargills in their efforts to build hope and create opportunities especially for rural youth.