Chandana Weerakumara alias Sakvithi Ranasinghe who swindled thousands of investors of nearly a billion rupees, led a life that contrasted with the humble life of his mother.
Sixty-five year old H.T.D Chandra Latha has been living for more than 25 years in a wooden-plank shanty in Sinhapura, Wellampitiya, travelling from one place to another selling cheap fabric and clothes, while her son lived in the lap of luxury wining, dining and clubbing.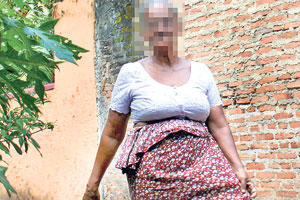 Sakvithi's mother:Life is a nightmare for her now
The Sunday Times on October 5 revealed how the Special Investigations Unit (SIU) of the Central Bank comprising three police officers of the Criminal Investigations Department (CID) appointed to probe into illegal finance companies had conducted an investigation and compiled a classified report which contained details of Sakvithi's high living life style. The report had revealed how Sakvithi patronised casinos such as MGM, Bellagio and Baylies regularly with his associate Inspector K. Pushpakumara who is now evading arrest. Sakvithi apparently placed bets of over rupees one million at a sitting.
After gathering all this evidence the special unit compiled a classified report which also included details of Sakvithi's operations and handed it to the Central Bank for necessary action.
However, the special unit set up in 2005 to deal with unauthorized finance companies, pyramid schemes and multi-level marketing operations became defunct in September 2006 after the three CID officers assigned to it were recalled by the police chief. The unit was later disbanded and its operations were handed over to the various departments of the Central Bank.
Sakvithi, a bright student of D.S. Senanayake College Colombo who was separated from his parents due to a family feud worked his way to the top.He was also known to have thrown lavish parties for politicians, government officials, police officers and businessmen.
His mother Chandra Latha who got married at the age of 15 after her parents moved from Matara to Battaramula told The Sunday Times that she chose to live in solitude after handing over her five children to her parents after her husband left her.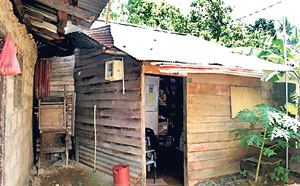 Chandra Latha's humble home.
"Chandana (Sakvithi) was the youngest of my five children. He was the only one who got an education. Although I have been living in Sinhapura for the past 25 years I used to visit my children at their grandparents home in Battaramula. I was happy to hear my son Chandana had passed the year 5 scholarship exam and entered DS Senanayake College. I used to go and see him almost everyday. I didn't want to be identified as his mother by other parents as I knew I couldn't live up to their standards.
"I remember once at a parents-student meeting the then principal of DS praising my son who was new to the school and had come first in the entire grade. He also excelled in debating. He used to insist that I stay and watch him debate but I didn't want to be identified as his mother. When other parents used to ask me who I was I used to tell them that I was his maid. However whenever he saw me in school he would hug me saying, amma –amma (mother-mother)," she said with a tender smile.
"The last time I saw my son was when he was 12 years old. It was after a school debate. I later discovered that he had run away from my parents' house. I remember being distraught and I held my parents responsible for letting my favourite son run away. I cutoff ties with them for nearly three years. Several years later, I learnt that my son was giving English tuition to O/L students and that he was living in a rented house in Ratmalana. I visited him then and we were united once again," she recalled.
"I asked him to come and live with me which he did for a while. However there was trouble soon when he eloped with one of his students. The girl's parents who were pawn brokers vowed to kill my son. I wasn't aware of their whereabouts for many months until I found them. They had got married and were expecting a child. I asked the girl to tell her parents and she did so. Everything returned to normal," she said.
"My son was doing very well then. He later rented out a three storey house in Nugegoda.I used to visit him often there. He wanted me to come and stay with him but I refused as I didn't want to interfere in his private life. He offered to do up my house but I thought it would be too much of an expense to him. I had no idea that he had started a finance company.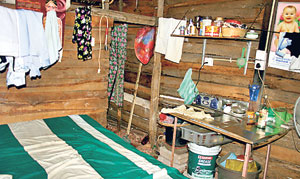 Inside of Chandra Latha's humble home.
He gave me money whenever he visited me. I didn't like him visiting the area I lived in as I felt it was not safe as he drove a luxury vehicle. He visited me last three months ago. He gave me Rs. 10,000, which was like a lottery ticket for me as I had incurred heavy expenses," she said.
"I found out about the scam on reading the newspapers. I felt very depressed. Three weeks after he had fled the country the police visited me and asked me to call his office and ask for him. That was the first time I called his office. I identified myself as Chandana's mother to the woman who answered the call. She told me that he had gone abroad and would be back in three weeks," she said.
When asked how she reacted to the news of the scam she broke down saying she couldn't believe that her favourite son could have committed such a crime. She believes opportunists would have made use of him.
"Ever since I heard of this scam I wish it was just a nightmare that would vanish," she said. She hoped that those who had lost their savings would get some kind of compensation.
"I was once a mother who was proud of my son. But now I am a mother who cries every night and regrets ever being born," she said.