The Supreme Court has given a group of six Colombo 5 residents leave to proceed with a case in which they claim their fundamental rights have been violated by severe traffic congestion caused by vehicles bringing schoolchildren to three international schools located in the neighbourhood.
The six petitioners, all residents of Thalakotuwa Gardens, Colombo 5, include former Senior Deputy Inspector General of Police (DIG), Gamini Gunawardena.
The petitioners have cited as respondents the following parties: the Ministry of Urban Development; the Urban Development Authority; the Colombo Municipal Council; the Inspector General of Police and the Head of Traffic Police; the Asian International School board chairman; the Ilma International Girls' School board of management, and the principal of the Elizabeth Moir Senior School.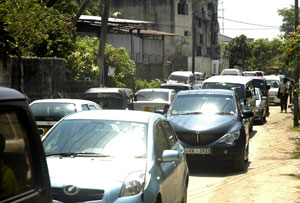 Vehicles blocking residences in Thalakotuwa.
The case is being heard by Chief Justice Sarath N. Silva, Justice S. Tilakawardane and Justice P. A. Ratnayake. According to the petition, Thalakotuwa Gardens is an exclusive residential neighbourhood; however, residents have been inconvenienced for years by school-bound vehicles blocking the roads and lanes leading to their homes. There are more than 100 residents in the area.
During the school term, the petition claims, some 1,000 school-bound vehicles converge on the neighbourhood twice a day, mornings and afternoons. In addition, there are cars and vans parked throughout the day in the private lanes and on the main Thalakotuwa Road, obstructing the free movement of the residents. The petition goes on to say that Thalakotuwa Gardens has been a prized residential area for close on 50 years, and that some of the residents came to live there as far back as the early 1950s and '60s. Many of them are senior citizens and former civil servants.
The petitioners say Thalakotuwa Gardens is private property, with private roads maintained by the residents, and that access to the neighbourhood should be available to residents only.
The petitioners add that the Thalakotuwa estate is a "primary residential" area, under the City of Colombo zoning plan and the development plan of 1999, amended in 2008. Under zoning regulations, no commercial institutions, including schools, can be permitted to operate in the Thalakotuwa Gardens neighbourhood. The petitioners say the three schools are operating illegally within a primary residential zone.
The petitioners are seeking a court order to have unauthorised structures in Thalakotuwa Gardens either removed or demolished; to have the three international schools relocated, and to institute legal action against persons found to be a nuisance to Thalakotuwa Gardens residents.
The petitioners are also seeking an interim court order to prevent the entry of any vehicle not belonging to residents of Thalakotuwa Gardens and their guests between 7am and 3.30pm, until a final determination is made by court.
The petition also questions the legality of ongoing construction work for a new building belonging to the Asian International School, and construction work already completed for the Ilma International School.
Counsels Uditha Egalahewa, Palitha Mathew, Thanuja de Silva and Ranjan Senadeera appeared for the petitioners.