Hundreds of Sri Lankans are risking their lives and making their way into war-torn Iraq to secure lucrative employment inside US military facilities while a helpless officialdom say there is little they can do as unscrupulous recruiting agents make millions of rupees out of this illegal operation.
Although almost daily groups of Sri Lankans are leaving these shores and heading for Iraq there is very little the authorities can do to stop it since their departure is done through legitimate channels.
While there are many who have found safe passage to Iraq, The Sunday Times spoke to several youth who were stranded at the Dubai International Airport in late September for more than two weeks since arriving there from Colombo. An agent of the local travel agency had promised they would be met on arrival by one of their agents in Dubai who would ensure their passage to Iraq. But for one week they were left all alone at the airport with no idea as to what would happen to them. When the agent finally met them, they were told it would take a few more days to travel to Iraq.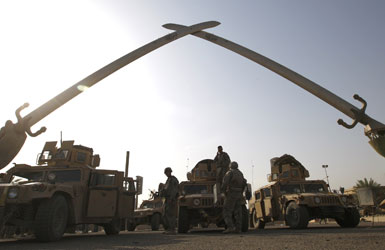 U.S. soldiers stand near the Swords of Qadisiyah monument in Baghdad. Many Lankans are employed in various US military facilities as janitors,
cleaners, mess boys, storekeepers, laundry hands and construction workers
As the men had run out of money they had to rely on the hospitality extended by the many Sri Lankan who work at the airport and those who pass through it to get their daily meals. There were 13 men in this group.
They had each paid Rs. 250,000 to a job agent in Armour Street, Colombo and were told they would be employed at US bases in Iraq and paid a monthly remuneration of US $550 but their dreams of finding lucrative employment had become a nightmare just two weeks after leaving the country. One of the men had been sent to Afghanistan, also to a US military base but after two months due to the poor working conditions, he had managed to find his passage back to Dubai and was awaiting a ticket to return home
The Government has banned sending Sri Lankans to Iraq for employment due to the security situation there and two agencies were raided earlier this year for doing so. But many registered travel agencies in the country continue to recruit persons but give no security guarantees.
"We have had many cases of Sri Lankans stranded in Iraq who have sought assistance from our missions in Jordan and Lebanon. But as we have almost no diplomatic representation in Baghdad now and no consular representation at all, it is difficult to assist them," an official of the Foreign Ministry who served till recently in the Sri Lanka Mission in Lebanon said.
The International Organization for Migration (IOM) had also reportedly helped more than 30 Sri Lankan workers flee Iraq since February 2007 after finding that they were being exploited and were living in deplorable conditions.
The lack of any records on how many Sri Lankans are employed in Iraq also makes it more difficult to trace their whereabouts when the need arises. Sri Lankans who had been stranded there and who had managed to contact Sri Lankan missions in neighboring countries had been repatriated with the assistance of the US military and the Iraqi government, the official said.
The bulk of Sri Lankans destined for Iraq first land in the United Arab Emirates (UAE) on so-called transit visas that are easily obtained and which are issued mainly to intended shoppers and tourists entering the desert nation. On arrival in the UAE the Sri Lankan workers are picked up by handlers, taken to a transit house where they are fed, given shelter and later taken to Iraq by road over the Kuwaiti border.
Thereafter they are found employment in various US military facilities as janitors, cleaners, mess boys, storekeepers, laundry hands and construction workers.
An average worker earns around $600 to 700 a month inclusive of food, accommodation, medical and even liquor and tobacco rations, something they will never get in any other West Asian country.
However, the workers are not allowed to leave the military base owing to the security situation and insurgents show no mercy for foreigners caught working for American interests. On completion of their contracts which vary from one to two years they are brought back to the UAE crossing the same desert borders from where they board a flight back to Colombo.
The passports do not contain immigration endorsements of Iraq or any other country except that of the UAE, their first landing point which indicates that they have not left the country at any time. Hence the UAE authorities have no objection in allowing them to exit the country.
US Embassy spokesman in Colombo Jeff Anderson when asked to comment on the employment of Sri Lankans in US military bases in Iraq declined to do so.
A Sunday Times investigation found that the main culprits behind this racket are the registered recruiting agencies who cleverly conduct their operations using middlemen/brokers who are paid a commission for their services.
Persons seeking employment in Iraq are charged anything between Rs. 200,000 to 250,000. This includes the airline ticket and other local expenses such as medicals, bureau taxes etc, the investigation revealed.
The agencies do not advertise or in any way publicise vacancies in Iraq, since the recruitment of workers for that country is outlawed. However, they use other means of getting their message across.
For example a long-time established recruiting agency operating in Colombo has put up a long list of vacancies in the UAE, but in fact the jobs are actually available in Iraq.
The agency it is alleged discloses this to a prospective job hunter only once they are satisfied that the person is genuine and is seeking to work in Iraq. Thereafter the two parties discuss the other details such as payments, day of departure etc.
The Sri Lanka Bureau for Foreign Employment (SLFEB) is fully aware of the Iraqi operations, but for reasons perhaps known only to them have opted to maintain a lukewarm attitude if not ignoring the errant agents altogether.
SLFEB Deputy General Manager L.K. Ruhunuge said although they were aware of the recruitment for Iraq it was difficult to carry out a crackdown since the persons were leaving the country through legitimate channels and posessed valid visas-transit, visit or any other.
He said that two agencies that were found to be involved in the illegal recruitment have had their operations suspended, but apart from that there have been no complaints from people who have taken up employment in Iraq.
Another frightening aspect is that no one is prepared to take responsibility for those taking up work in Iraq and in the event of a tragedy, matters could become complicated, admits Mr. Ruhunuge.
So far there have been two deaths of Lankans in Iraq. In one a worker was killed when a missile hit an oil storage dump and the other was caused by an industrial accident, Mr. Ruhunuge said.
He added that investigations into an errant recruitment agency could commence only if there has been a complaint, but apart from that there was little the Bureau could do.
These words will no doubt be music to the ears of the recruitment agencies, their so-called brokers, handlers and every one involved in this racket.
Big promises but empty pockets
Driven by economic hardship, S.V.Gamini of Kalutara was among a group of 21 Sri Lankans who left for Iraq in December last year with the prospect of coming home with enough money to lead a more comfortable life than the present one.
He borrowed money to pay a job agency in Borella Rs. 230, 000 to secure a job and left on December 14 last year for Dubai along with several others. On their arrival, they were met by a contact of the Sri Lankan agent and put on a flight to Iraq. The group was split into two and put to work in two US military bases, mainly as labourers. There were 16 Sri Lankans working with Gamini.
"We were given the promised monthly salary of US $ 550 and had enough food and adequate accommodation," he said. Gamini worked there for ten months and decided to leave when he felt that the security situation was getting dangerous." A few days before we left, a mortar fell into an adjoining room where we were working It was frightening," he said.
Gamini was also in poor health by now and said he wanted to leave prior to the end of his one year contract. He and four others were allowed to go but their two months salary was deducted to pay for their air ticket which cost around Rs100, 000. When they arrived at the Sharjah airport, they had to pay an additional US $ 100 as visa fee and although they were promised free transport from Shajarh to Dubai, the men had to pay another US $ 80 to travel by taxi to the Dubai airport from where they boarded a flight to Colombo.
However, two of the men were detained in Shajarh as their passports had expired. "Although I went there with high hopes, I was not able to save any money. Job agencies charge us so much to send us to Iraq but they don't keep to their side of the bargain," he lamented.