UPFA parliamentarian Vinayagamoorthi Muralitharan alias Karuna has directed Eastern Province Chief Minister Sivanesathurai Chandrakanthan alias Pillayan to register the TMVP (Tamil Makkal Viduthalai Puligal or Tamil Peoples Liberation Tigers) party under a new name where the word Tiger is to be axed.
The order came as Karuna took a firm grip on the party following a tense stand-off with the Eastern Province Chief Minister on Friday.
The party's logo which also depicts a tiger would be dropped, Mr. Muralitharan said. This fresh move is aimed largely at winning the trust and confidence of the majority Sinhala people who might still be harbouring suspicions regarding the agenda and activities of the TMVP, he said.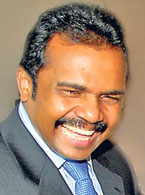 Vinayagamoorthi Muralitharan
Mr. Muralitharan said that in another move to take away the suspicions, all TMVP armed cadres would be disarmed and given the option of joining the Civil Defence Force where they could serve the nation in a legitimate manner while protecting themselves from the LTTE. Mr. Muralitharan had also directed the chief minister to absorb senior members into the party.
Mr. Chandrakanthan is reported to have said he needed at least three days to decide on his response.
Earlier this week armed cadres loyal to Mr. Muralitharan over-ran the Chief Minister's office in the eastern town of Batticaloa, leading to a tense stand-off. The Government intervened at the highest level to settle the matter.
Both parties were summoned to Colombo for crisis talks with Defence Secretary Gotabhaya Rajapaksa and Presidential Advisor Basil Rajapaksa mediating.
According to sources, the two leaders agreed to settle outstanding issues in a friendly manner without disturbing the peace in the province.
Meanwhile, armed cadres in and around the TMVP office had a from the area as well as from other public spots of the Batticaloa district, DIG Nihal Samarakoon said.He said the situation was now normal and no incidents were reported yesterday.