Former Treasury Secretary Dr. P.B. Jayasundera, who the Supreme Court says was involved in a corrupt deal in the privatization of Lanka Marine Services Ltd (LMSL), filed an affidavit in court on Thursday saying he doesn't hold any form of public office now and doesn't intend to (in the future).
"I state that I do not hold office under the Republic or in any establishment in which the Government of Sri Lanka has an interest, purporting to represent the Government of Sri Lanka and I will not hold office in any Government institutions either directly or indirectly or purport to exercise in any manner executive or administrative functions," he said in an affidavit dated October 16.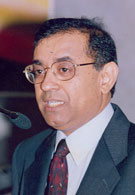 P.B. Jayasundera
Dr Jayasundera was given time till tomorrow (Monday) to file an affidavit saying he doesn't hold any form of public office. The LMSL case comes up tomorrow. The once-powerful official, who continued in public office after the judgment and incurred the wrath of the court, also said in the affidavit, "I regret having continued to exercise official functions after the delivery of judgment by Your Lordship's Court in the circumstances … and apologise for same." The court had said on an earlier occasion that Dr Jayasundera, by virtue of the judgment, was not fit for any public office and ordered that he apologise in open court, which he did, on the last occasion when the case came up.
In his affidavit, Dr Jayasundera said - in a letter dated July 25 addressed to the President through the Secretary to the President - , that he had asked that he be relieved of his responsibilities as Secretary, Ministry of Finance and Planning/Secretary to the Treasury.
The President's Secretary then told him that the President wanted him to continue until a replacement was found. The President's Secretary on September 17 informed him that the resignation had been accepted with effect from this day.
Dr. Jayasundera said thus he ceases to hold such office including membership in the Monetary Board, Finance Commission and the Institute of Policy Studies. On September 19, he wrote to new Treasury Secretary Sumith Abeysinghe asking that he be relieved from the post of Chairman SriLankan Airlines. This was accepted on September 30.
He said he has also transferred subscriber shares that he held in the following companies (in his capacity as Secretary) – Rakna Arakkshaka Lanka Ltd, Lanka Logistics and Technologies Ltd, Mihin Lanka (Pvt) Ltd, Sri Lanka Savings Bank Ltd and Lankaputhra Development Bank Ltd.
While Dr. Jayasundera has attached all copies of letters referred to as annexures, a copy of the July 25 resignation letter has not been attached to the affidavit.