Action thriller 'Wanted' starring Angelina Jolie is now being screened for a limited engagement at Regal Colombo.
Based on Mark Millar's explosive graphic novel series and helmed by stunning visualist director Timur Bekmambetov-creator of the most successful Russian film franchise in history, the Night Watch series-'Wanted' tells the tale of one apathetic nobody's transformation into an unparalleled enforcer of justice.
Twenty five-year-old Wes was the most disaffected, cube-dwelling drone the planet had ever known. His boss chewed him out hourly, his girlfriend ignored him routinely and his life plodded on interminably. Everyone was certain this disengaged slacker would amount to nothing. There was little else for Wes to do but while away the days and die in his slow, clock-punching rut until he met a woman named Fox.
After his estranged father is murdered, the deadly sexy Fox recruits Wes into the Fraternity, a secret society that trains Wes to avenge his dad's death by unlocking his dormant powers. As she teaches him how to develop lightning-quick reflexes and phenomenal agility, Wes discovers this team lives by an ancient, unbreakable code: carry out the death orders given by fate itself. With wickedly brilliant tutors--including the Fraternity's enigmatic leader, Sloan--Wes grows to enjoy all the strength he ever wanted. But, slowly, he begins to realize there is more to his dangerous associates than meets the eye. And as he wavers between newfound heroism and vengeance, Wes will come to learn what no one could ever teach him: he alone controls his destiny.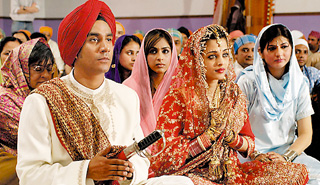 Written by Michael Brandt, Derek Haas and Chris Morgan, the film stars James McAvoy (Wesley), Morgan Freeman (Sloan), Terence Stamp (Pekwarsky), Thomas Kretschmann (Cross) and Common (the Gunsmith).
Distributed by Universal Pictures 'Wanted' will be screened till October 16. 'Wanted' will be followed by Sinhala film 'Diya Yata Gindara' (Flames Beneath Waves) directed by Udayakantha Warnasuriya and will be screened from October 17 and 19.
The film focuses on an abortive attempt by a group of people to earn money in an illegal manner. They are finally brought to book by an enterprising team of investigators.
The film stars Sanath Gunathilake, Tony Ranasinghe, Achala Alles, Srimal Satyajith Wedisinghe, Amarasiri Kalansooriya, Srinath Maddumage, Janesh Silva, Nirosha Herath and Sumitta Kularatne.
Jag Mundh's 'Provoked', a compelling tale of domestic abuse based on a true story will be shown on October 20 to 23.
Starring former Miss World, Aishwarya Rai in the central role of a battered Punjabi housewife Kiranjit Ahluwalia, who sets her husband on fire being unable to bear his brutality.
The story of 'Provoked' is inspired by Ahluwalia's biography Circle of Light by Rahila Gupta, a book which traces her lonely struggle in an abusive 10-year marriage, her retaliation through the murder of her violent husband and the efforts of women activists Southall Black Sisters to bring her justice. Directed by US-based Indian filmmaker Jagmohan Mundhra, the film stars Nandita Das, Miranda Richardson, Navin Andrews,Nandita Das,Rebecca Pidedeon,Robbie Coltrane and Steve Mcfaddena and it is produced by Sunanda Murali Manohar.
'Provoked' stars Aishwarya Rai as a battered Punjabi wife who is sentenced to life for murdering her alcoholic abusive husband but is later pardoned by the English courts by an unprecedented appeal that redefined the laws of Provocation in future battered spouse legal cases.
Following 'Provoked', Academy nominated Uberto Pasolini's 'Machan' will be released in Regal Colombo and other CEL circuit cinemas.
Produced by film maker Prasanna Vithanage, the film narrates around a group of Sri Lankans including desperate slum dwellers, who have been caught up in the vicious circle of poverty, trying to migrate to the West by unauthorized means.