Saman Adaudahetti will launch an interesting publication titled 'Atisundara sathya kaatha - eya mese siduviya' (Interesting true stories - They happened like this)in which he traces true life incidents and takes the reader down an interesting journey into some nostalgic and unknown facets of several Sri Lankan personalities and other aspects of Sri Lankan life.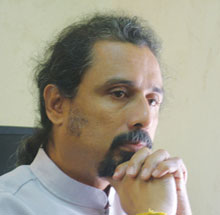 Saman Adaudahetti
The book covers areas such as sports, cinema, television, radio and journalism among others. Some of the interesting reads include a discripion of how the popular children's song "me gase boha" came into being and how the road was paved for the first cricket commentary to be aired over radio in Sri Lanka.
Another interesting revelation is how in 1974, two newspaper - the Daily Mirror and the Observer - campaigned to have a 4X400 relay team sent for the Teheran Asian games. The unrelenting campaign by the two newspapers resulted in team beings sent for the games and them returning to the country with a gold medal.
Saman who has been collecting such interesting episodes as a hobby for many years was urged by friends to put it into one publication. The book is published by Kinkini publications and will be available at the Colombo Book Fair from September 20 onwards.