The Eco Village, Dodanduwa is one of the best eco based resorts in Sri Lanka. Bordering the idyllic Dodanduwa lagoon with its famous Buddhist island retreats, the Eco Village is the perfect place for nature lovers looking for peace and tranquility combined with outstanding Southern hospitality
Located on a four acre land, about five kilometres off Hikkaduwa towards Dodanduwa, the Village is just five minutes from Galle road. It is covered with mangroves, which sheltered this resort from the tsunami in 2004.
Ex-Air Force Officer Siri Abeyweeragunawardena, the proprietor of the Resort said though this project is more than fifteen years old, it was forced to closed down during 88'- 90' due to civil violence that ripped down South.
This was the brain child of my son Priyadharshana and new 'eco village' concept was his idea.
He too was an Air Force officer. After the closure during trouble time, we lost interest as he died in action in the battle in North.
Soon after this tragedy, I lost my wife too.' Siri said. 'I reopened and started to improve this project in remembrance of my son' he added.
Despite these tragedies he carries on, since he is eco-friendly and enjoys spending long hours with nature and finding consolation in the sounds of silence in Echo Village.
The 'Eco Village' has only seven rooms of which one is the boat house, a floating houseboat. Other outstanding accommodations are the traditional mud stilt cottage, a family bungalow and a jungle stilt cottage. Cuisine too is a specialty in the 'Village'.
They serve all types of dishes but always encourage visitors to enjoy the authentic food from the area. The traditionally prepared local specialties are served either in a converted catamaran or in the restaurant overlooking the lagoon.
Open right through out the year the Echo Village invite nature lovers to enjoy nature living in a house boat or on a chalet built on stilts - there are two chalets in the village - or perhaps in a small rustic unit on land which gives the opportunity for a family to be one with nature.
The Eco Village offers lagoon and river safaris, bird watching tours as well as a unique insight into Southern cultural and religious life. Boat excursions on 200 year old restored Catamarans will be a true treat for the adventurous traveller. Bird watching and a visit to the Polgasduwa hermitage established in 1911 will be another pleasure traveller may indulge in while at his stay at Eco village.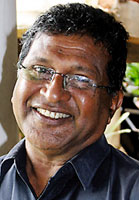 Siri Abeyweeragunawardena
A boat house and 2 houses on stilts will comfortably accommodate12 persons. Boat house is 1500/- per day without any food and family unit will cost only Rs.8500/- a day.
Boat excursions on the lagoon with a guide have become popular. Lovers of photography can spend long hours capturing the colourful beauty of the sunset.
Nature trails with a guide give you an insight into the rich flora and vegetation that Dodanduwa is noted for.
'Dodanduwa lagoon has been bestowed by nature with all what you require promoting water sports and the first ever event consisted canoeing and wind surfing, attracting a fair number competitors with a big turnout of spectators' Siri explained.
For details contact 2267350 or 0914901264.