Experienced teledrma director, Sanath Abeysekera marks his entrance to the cinema with his maiden direction 'One Blood', a film which is an attempt to restore peace in the country. Starting with 'Kurusa Handiya', Abeysekera has directed 26 teledramas including some of the popular creations. Following OCIC diploma on film making, Sanath ventured into teledrama scene and some of his well known plays were 'Deveni Amma', 'Daruwange Ammala', 'Meeduma Obai', 'Sanda Yali Evith' and 'Dambulugala Sakmana' which is now being telecast.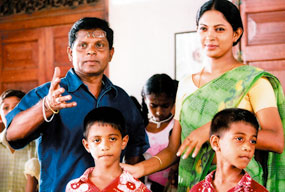 Sanath directing 'One Blood'
The director won the Best Up and Coming screenplay writer at the Sumathi Awards ceremony in 2001.
'I am glad that I was able to handle a theme about 'Peace' in my maiden attempt on cinema' Sanath said speaking about direction of 'One Blood'.
The production of the film is continuing and the Sri Lanka Army and other forces are giving immense support, the director who has written the script said. A large number of shots in the film were done in Puttalam and Panagoda Army camps with many army personnel playing roles.
Sanath was also happy about Ajith Weerasinghe, who plays the lead role in the film 'Ajith playing a double role as an Army officer and a terrorist gives a superb performance while Kanchana Mendis plays the leading actress role as the fiancée of an Army officer and later as the wife of a terrorist' Sanath said. "Other actors like Lucky Dias as a Tamil principal. Rex Koddippily as a father, Roshan Pilapitiya as an Army officcr, Himali Saurangi as a warden and Hyacinth Wijeratne as a grandmother gave enormous contribution to the film," the director satisfied with performance of his cast said.
'One Blood' is produced by Dr. Ranil Samarasinghe.