Veteran media personnel, teacher and researcher, Tilak Jayaratne was instrumental in introducing alternative media forum for people. Involved in the electronic media for the last 30 years, some of his novel attempts and approaches to radio became extremely popular among the people despite creating controversy to the authorities.
Attached to Sri Lanka Broadcasting Corporation (SLBS) Tilak created an alternative radio channel 'New Educational Service' which became extremely popular among listeners. However in 1994 a newly elected government banned the channel despite protests by listeners. And these protests went to the extent of one listener challenging it in the Supreme Court with a fundamental rights case which he won with a landmark judgment for the freedom of expression of people.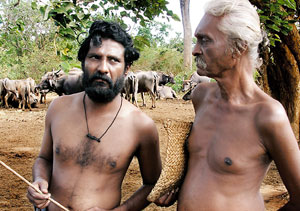 A scene from' Kampitha Wila'
'In addition to popular radio channel, it is necessary that alternative media emerge for the benefit of the listeners. It was very unfortunate that the authorities did not recognize this' Tilak said. Later Tilak handled a community media project with UNESCO and aired a radio channel in Bandarawela.
"This kind of a struggle is necessary in order to recognize that the right of media should be owned by the people. The frequencies which are a limited resource belonged to the people. Unfortunately our civil society is defunct to voice for this right," he complained.
An experienced researcher, almost all the teledramas scripted by Tilak was a result of extensive researches he conducted. 'Kadulla, my first script was a result of ethno graphic research conducted living with the community of people. It was a different genre of teledrma. While popular genres are there, it is necessary that these alternative genres too are presented," Tilak explained.
The media has to be diverse and then only it would become interesting. Speaking about 'Kampitha Wila', a teledrama around a group of multi cultural, multi-ethnic people based in Panama, off Arugambe, Tilak lived with them for a long time before he wrote the script.
"According to history after the 1848 rebellion Sinhala men from Uwa had come there and got married to Tamil Hindus. They even carry mixed names. I met a monk whose earlier name was 'Rasaiya Chandrasekaran'" Tilak said.
In another house two sons were killed due to the war. One was killed by the Army for joining the LTTE and the other army personnel was killed by the LTTE. This story will be feature in the coming episode of the teledama," script writer said.
Scripts of five avant-garde teleplays released as literature Veteran media personnel, Tilak Jayaratne is a writer who has presented outstanding scripts to the teledrama industry in this country.
Starting with 'Kadulla' directed by veteran Dharmasiri Pathiraja, Tilak's script made a difference in the existing teledrama culture. At a time when teledrama became a mode of light entertainment or soap operas around family happenings, Jayaratne proved that this medium could be used for the wider purpose of creating a dialogue among the masses and communicate very powerful social and political messages.
In fact 'Kadulla' was the first such teledrama telecast and it was an eye-opener to many budding teledrama makers, artistes and even to the TV audience. It reached the height of popularity along with its high standard of artistic quality and was different from the mainstream teledrama telecast by then.
Including 'Kadulla' the teledrama scripts of 'Nadunana Puththu' directed by Dharmasiri Pathiraja, 'Dande Lu Ginini' and 'Wanaspathi' directed by Sudath Mahadiwulwewa and 'Kampitha Wila' also from Pathiraja made into books will be released at 3 pm on September 16 at the Foundation Institute, Colombo-7. At this event Dr. Dharmasena Pathiraja will be the chief guest and Professor Sudarshana Seneviratne, Dr. Sasanka Perera, Dr. Sunil Wijesiriwardena, veteran filmmaker and playwright Dharmasiri Bandaranayake and Tilak himself will deliver speeches.
The five books are published by Prem Dissanayake and the event is coordinated by Jayantha Amarasinghe and Sudath Mahadiwulwewa.