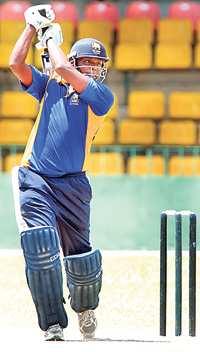 Sri Lanka CD opener Amal Athulathmudali. (pic by Ranjith Perera)
An unbeaten knock of 55 with seven boundaries and two sixes by opener Amal Athulathmudali enabled the Sri Lanka Development XI to record an easy nine wicket win over Hong Kong in the second one dayer at the R. Premadasa Stadium yesterday.
The visiting Hong Kong side was nowhere near the performance of the first one dayer played two days earlier. Taking first lease of the wicket they succumbed to some deadly bowling by Test player Jehan Mubarak who was supported by Lassana Dias and Amal Athulathmudali.
Mubarak finished with top figures of 4 for 11 while Dias and Athulathmudali shared two wickets each to bowl out the Hong Kong side for a low score of 105. It took only just 14.2 overs for the Sri Lanka CD XI to reach the target.
Hong Kong 105 in 36.2 overs (Irfan Ahamed 17, Tabarak Dar 15: Jehan Mubarak 4 for 11, Lassana Dias 2 for 11, Amal Athulathmudali 2 for 19)
Sri Lanka Cricket Development XI 106 for 1 in 14.2 overs (Jehan Mubarak 33, Amal Athulathmudali 55 n.o.)-MSA