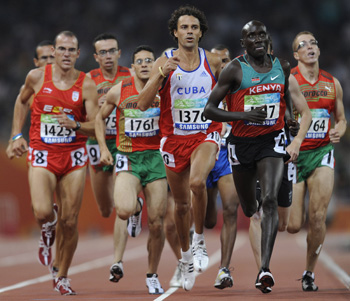 Henry Kirwa of Kenya (2nd-R) leads in the men's 1500m T13 final during the 2008 Beijing Paralympic Games. AFP
Sri Lanka's Shantha Kumara and Udaya Pushpakumara will compete in the men's 800 meter (T 46) and Long jump events today at the 13th Paralympic Games here at the Bird's Nest Stadium in China.
Shantha Kumara earlier competed in the men's 200 and 400 meters under T46 classification, produced some stunning performances in the 400 meters improving his personal best by nearly one second to clock 51.08 seconds, will make his last appearance in the 12-day competition today, hoping to repeat the same.
Also in the line up is Udaya Pushpakumara who will compete in the men's long jump following his impressive personal best performance in the javelin throw (F 42/44 classification) hurling a distance of 46.30 meters, will battle it out in the long jump.
Sri Lanka has performed so far in five disciplines and has improved their personal best performances in three events, an achievement worth recognizing. Sandun Wasana, competed in the men's 48Kg and produced his personal best performances in power lifting while Shantha Kumara and Udaya Pushpakumara produced their best performances in the tournament.
The 13th Paralympic Games, the biggest sporting stage to the people with disability, has seen some stunning performances by the paralympians who had proved that if one has the will with little capability, one can achieve greatness. Sri Lanka sent a five-member contingent to the Games, but didn't expect to create waves in Beijing this time around.