In a recent interview Mahela Jayawardena had made mention of Sri Lanka's meager test match calendar in the near future. He had questioned the means by which the country could climb the test ladder. It is indeed so and more so should the fixtures be against lower placed opponents, in the points table.
The ICC draws a future tours programme. I am certain there is input from the governing bodies. This is not an issue that has cropped up in recent times. The countries governing bodies of the past should have pressed for an intensive calendar for each year. Not wait until the moment arrives and then make complaints.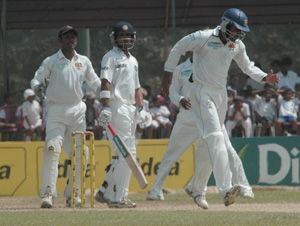 The Lankan cricketers are running out of meaningful cricket in the near future. However some other countries are having their plates full all the time. The pic shows Lankan engaged in their last Test series which was against India. (Pic by Ranjith Perera)
England and Australia have the best arrangements. They have over the years built summer and winter major sporting calendar that is there to stay. England play all their home test games and ODI's during the period May to early September. They do not tour during this period. The Australians conduct their cricket between November and early March. Again the national team does not tour during this period, unless it is a short stint to neighbouring New Zealand.
Most of the time it is so with South Africa, New Zealand and the West Indies. They have a time when it is cricket at home and cricket away. In India and Pakistan it gets too hot for cricket from June onwards. In fact the Asia Cup games played in July this year in Lahore and Karachchi commenced at 4.30 in the evening and concluded around or after midnight, avoiding the really hot part of the day. That hot spell is followed by monsoon rains and again playing on turf is ruled out.
In terms of what should happen weather wise Sri Lanka are fortunate or should be fortunate. The island experiences two monsoons and should they happen according to time then the game can be played in some part of the country. However the main period for cricket is between October and March. Most countries strive to play their home games during this period and other than if England tours here or perhaps Bangladesh getting home tests during our season, is not easy. However, has a genuine effort been made? At least to host one series against one of the better teams during the peak of the playing season.
Another noticeable happening is the reduction of test from three to two games. The series against India and England consisted of three games but a number of the others are now down to a couple of matches. The Sri Lankan board must request for three games where possible.
The popularity gained in twenty/20 cricket is quite amazing. Just like one day cricket it was at country level that this ultra-short version of the game was conceived. Then the T20 World Cup popularized this mode and the IPL endorsed it as here to stay. Mahela Jayawardena has cried out to limit this form of the game to a singular league. How feasible is that? Will the ICC have the courage to stamp its approval on one tournament and outlaw the others? I personally think that will not happen.
This is a sign of the times. More demand for instant action and instant results. Jayawardena also feels that an excess of T20 cricket can affect Test and ODI games. There is a possibility of crowds dwindling at venues and TV viewership reducing should there be an excess of these games. That will mean a loss in revenue and in turn difficulty for the game to survive.
At present the governing bodies are not working in unison on this issue. There being two leagues in India is one issue. As a result of one not being recognized a further split has occurred. The players feel it their right to earn as much as they can while the sun shines. The governing bodies can cough up only so much. The wealth of the playing nations is lop sided. It is human nature for the rich to bully the poor, or should it be so? A worthwhile subject to ponder on!
All of this indicates that the cauldron is simmering. Sensible decisions must be taken before boiling point is reached. My own thinking is that immediately each governing body must have its own set of guidelines and policies. Once again the Australians showed the way. Their tour itineraries are known clearly well ahead of time. Those who are selected know their responsibilities. They know they cannot even miss a training day. The Andrew Symonds case is a classic example. Disciplined for missing a team meeting – sent home and out of the series! No player is greater than the game.
It comes back to arranging the test and ODI calendar effectively. The 2008 – 09 season is approaching. A Twenty20 series involving Canada, Pakistan, West Indies and Sri Lanka, to be played in Canada has been hurriedly organized. A tour to Zimbabwe to play five ODI's is confirmed. That is followed by two tests and three ODI's in Bangladesh. Then the possibility of Zimbabwe returning for five ODI's next February. As a matter of fact Sri Lanka has had played Bangladesh, home and away, more than any other country.
There are many ICC meetings held over an year. In fact at present the CEO's annual meeting is going on in Dubai. It is high time Sri Lanka sorted out their international playing calendar so that there are regular home and away tours against all countries. Sri Lanka's cricket is good enough to make that demand.
Ranil Abeynaike is a former Sri Lanka cricketer and curator of SSC