By Harry Jayachandra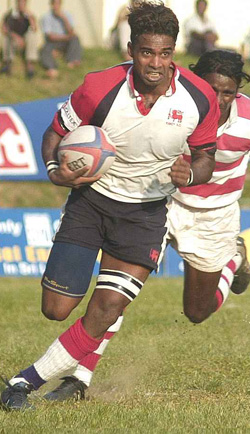 Sanjeewa tirade -- certainly not a storm in a tea cup.
"Let's get one thing straight. DIG Nimal Lewke had nothing to do with our selection of Dushantha Lewke as the captain of the Sri Lankan team. He did not speak to us about the captaincy or composition of the team for that matter." said Savantha De Saram who is member of the Sri Lanka's rugby selection committee in response to Sanjeewa Jayasinghe's out burst.
De Saram added; "If anything, Jayasinghe's recent behavior has completely vindicated our decision of not appointing him as captain".Speaking further to The Sunday Times, De Saram said; "I do not wish comment on what Jayasinghe has said. Most of it is baseless.
He has not written or spoken to us. However, I will tell how Lewke was selected. Initially we short listed a number of players namely Jayasinghe, Lewke, Dilanka Wijesekera, Pradeep Liyanage, Jeewa Galgamuwa and a number of others. After a very thorough evaluation it came down to the five I mentioned above. We looked at performance. Conduct on and off the field, reports from prior tours by the coaches and managers, practice attendance etc. Galgamuwa has not been a regular of the Sri Lankan side and Jayasinghe had mentioned to another selector he would play only for another one and a half years. We were looking for someone who we felt would perform well both individually and as the leader for a longer period of time."
Elaborating further he said; "Thus it came down to Liyanage, Lewke and Wijesekera. Even before we sat down to pick the squads leave alone the captains, we had decided to have separate skippers for the sevens and fifteens. As you know we appointed Liyanage to lead Sri Lanka in the sevens. After that we decided on merit to install Lewke as the captain with Wijesekera as his deputy of the fifteens. We spoke to both players and told them we have a busy international calendar and this opportunity was just for the tournament in November to start with. Both players were fine with our decision."
"Seniority does not guarantee captaincy. We gave Jayasinghe the chance and we got thrashed in both outings. If you were to take parallel, look at cricket. Mahela Jayewardene was appointed captain ahead of Chaminda Vaas and Muttiah Muralitharan. If there were any issues, it was handled behind closed doors, not aired in public and sensationalized. Jayasinghe did not have an issue with Liyanage's appointment.
Thus why should he have any problem with Lewke. Perhaps he does not realize that we the selectors are not a bunch of donkeys. All of us have played rugby for years at the highest level. In addition what kind of example is he setting for the junior players? It is a basic courtesy to inform the management if a player cannot attend practice. He cannot be bothered and even players who are just out of school are following his example. No player is bigger than the game and one should take pride in wearing the national jersey," said De Saram.
He added; "I believe the core issue here is that Nimal Lewke has made a few enemies during his tenure as President of the Sri Lanka Rugby Football Union. Now that he is coming to the end of his term, his enemies are jumping on the bandwagon in the vendetta against his son."
When contacted Nimal Lewke said; "Jayasinghe has contravened International Rugby Board (IRB) rules with his statement. In addition by criticizing the selectors he is effectively insulting Sports Minister Gamini Lokuge. I do not wish to say much because people will get the mistaken impression that I am biased because Dushantha is my son."
Will others join Jayasinghe?
Will Sri Lanka's crack winger Sanjeewa Jayasinghe's international career come to an untimely end? That is the question many followers of the oval ball game are asking. The reason is not a sudden diminishing of talent or speed.
Jayasinghe says he's fed up to the gills with the unfair happenings in his chosen sport. Having played for the country for ten years and moreover having done brilliantly at home and abroad, he feels that the recent appointment of Dushantha Lewke as the captain of the national 15-a-side team is grossly unjust.
Jayasinghe had a brief stab at captaining the national team in both forms of the game. But he was deprived of continuity on account of a visit to South Africa to watch last year's World Cup. He was later re-instated as a player by the Minister of Sports. Jayasinghe feels he should have been given another shot at the captaincy.
However it is not all about his deprivation he cites the case of other senior players such as Radhika Hettiarachchi, Dilanka Wijesekera, Jeeva Galgamuwa and Pavitra Fernando as being eminently worthy of the honour. There is no question of Lewke playing in the national side. But captaining it is another matter altogether.
Jayasinghe informed the Rugby Union of his decision to retire from international rugby yesterday (Saturday). His decision will change only if the captaincy issue is settled to his satisfaction.
The question is whether the other Kandy SC players will pull out from the national pool as a gesture of support. )