It was the Sevens in Kandy and it was being held for the 10th time. The Sri Lanka team entered the ground for their first game against Singapore to a thunderous welcome of fans who expected something special. The team that entered the Nittawela grounds looked confident, appeared capable and skilled.. They have trained under the recently appointed coaching team of South African Dawie Snyman, and Norman Laker.
Sri Lankans thrilled the crowds by winning their pool, beating Singapore, Kazakhstan, Chinese Taipei and China. So far so good and it seemed we may get to the cup. But the Koreans proved too strong in the Cup semi final and put an end to the forward march of Sri Lanka. Still they put up a good display and looked capable of winning. Only to be defeated by errors of judgment and not by the lack of skills.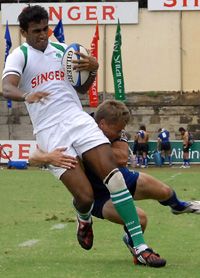 Lankans in action at the Kandy sevens last week. (Pic Sanka Vidanagama).
One thing that came to my mind during this match is that Sri Lanka cannot continue to bank on old horses that have previously run well. With age catching up and the legs not taking them to where they should end--the goal line. Instead they got cornered into a bunch as defenders closed in. Or missed crucial tackles as the response time was seen to be dropping. Sevens require players who have got good hands, quick feet and great defensive skills .It is not for carrying old soldiers who now find it difficult to be quick on their feet and cannot offer the defense they were once capable of. The Sri Lankans showed that they were capable of jinxing and out running their opponents while handling and moving the ball. They showed they were apt at tackling their rival up front. Yet to move forward maybe some tough decisions are necessary.
What surprised me was the way we lost the 3rd and 4th place to China whom they beat very convincingly in the pool games. What was it that made the side that showed skills and talent and promise to go down tamely to a team that they beat earlier? It seemed to that the mind set was just not right. Sadly they failed to absorb the fact that they were beaten by Korea in the semifinal after winning four games in the pool stage. Chicken: if they cannot understand that every game is another game and has to be played as though it was the most important game. Some time ago they would have said that the team lacked the energy to last six matches in two days. Some do say that this time around too. This was not so as I saw it. It was all up there. Possibly they had something weak and mellow when a strong mental state was needed. It reminded me, how Sri Lankans keeps a finger on the side of their forehead and say! It is in the Kidneys?
There is a limit to what coaches Dawie and Norman can take you to. Once the skills and the game plan is perfected at practice it is up to you to perform. Yes they did it up to a point, but with one defeat lost that confidence they had. They stopped thinking as champions. It is now time to put behind the past and learn. Then get ready for your next mission. That is the Rugby World Cup qualifiers that are to be played in Hong Kong on the 4th and 5th of October. What have they learnt from the sevens in Kandy and what needs to be done to get a more lasting shine. Will this be possible as we hear whispers of some players not attending practices? Do I hear somebody say that the National team comes before all else. I do really hope so. As has happened in the past I hope petty politics will not have its day.
Despite the absence of Japan and Hong Kong I doubt anybody expected Malaysia to win the cup. They won the Singer Sri Lanka Sevens for the first time in its long history at the weekend, coming from behind to beat Korea 31-21 in the final. The Koreans led 21-5 at the break. The four Fijian-born players in the Malaysia side helped them to dominate the second half. Value addition to the National team of Malaysia has been the Fijians who initially come to coach and play do the period required to qualify for the national team. To teams vying for the RWC slot this tournament was a good warm up. To us at home it is another learning experience. How about some foreigners playing for clubs as a starter?
= Vimal Perera is a former Rugby Referee, coach and Accredited Referees Evaluator IRB