Hornets have for generations been a major deterrent to visitors to Sigiriya, especially for those who wish to get close to the rock fortress's famous frescoes.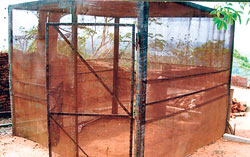 Mesh cages (above) and protective gear (below) are available for the protection of visitors to Sigiriya.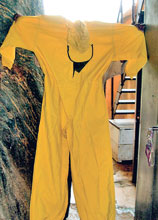 Some regard the hornets as guardians of the ancient treasures of Sinhala art, while others see the creatures as a nuisance and a hazard that spoil their enjoyment of the Sigiriya experience.
Safety measures taken by the authorities to protect visitors from hornet attacks include the provision of mesh cages to escape into in case of a hornet attack and protective gear for visitors to wear.
According to Sigiriya's tourist guides, the authorities have issued some 70 such protective gear kits, but only about 20 are available in close proximity to the wall paintings.
According to sources, a team of about 40 persons has been hired to ensure the safety and security of tourists climbing the rock at Sigiriya, but most of them confine their duties to checking tickets, while some do not even bother to wear the uniforms issued to them so that tourists can know whom to turn to for help.
Two Japanese tourists recently posted a letter at the site with the following comments:
"Although climbing the rock is hard work, the pleasant breezes blowing at that height make the climb a lot less arduous. However, the sight of hornets can be alarming to visitors."
Tourist guide N. D. F. Susantha, 56, said the hornets attack only when provoked. He said unruly and noisy behaviour on the part of visitors was the main reason hornets attacked, and that guests should be more careful when they entered the "danger zones".