About 11,000 Tiger guerrillas have been killed since the military launched its campaign to secure the Mavil Aru anicut in July 2006, Army Commander Sarath Fonseka told his officers on Friday. The toll was given during his quarterly address to officers of Grade 1 and above. They comprised selected officers from the ranks of Major upto Majors General. Some 200 of them, with the exception of those serving in operational areas, took part in the conference at Army Headquarters.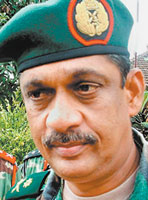 Army chief Lt. Gen. Fonseka
Lt. Gen. Fonseka said the Army was moving on four different fronts to regain control of the remaining areas in the Wanni. He said on one front, Pooneryn was only some 30 kilometres away. However, he did not identify the fronts in question. He said according to estimates provided by the Directorate of Military Intelligence (DMI), only some 4,000 Tiger guerrillas now remained.
Army sources said if the troops secured the remaining 30 kilometres along the western coast of Wanni, that would pave the way for the establishment of a land based route to the Jaffna peninsula. Attempts earlier this month to advance beyond a one time Sea Tiger base at Nachchikuda met with stiff resistance.
Lt. Gen. Fonseka also referred to the role of the media during his speech. He said that the media should know what to write and what to keep out. During the 80 minute conference, the officers were also given a presentation on the successes made by the Army since 2006.