Nation Building Minister Rohitha Abeygunawardena was yesterday questioned for more than three hours by Bribery Commission officials over allegations of undeclared assets estimated at more than Rs. 450 million.
The inquiry at the Commission's office came after The Sunday Times and other media highlighted the case. He had been summoned twice before by the Commission but on both occasions had sought further time. The investigations in this case have been pending for more than four years.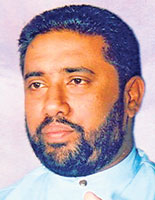 Nation Building Minister Rohitha Abeygunawardena
Yesterday, the minister came to the Commission's office in his official vehicle but left in a different vehicle, apparently to avoid journalists who were waiting outside. His official car which was parked in the Commission's office premises was driven away later.
The allegations against the Minister hit the headlines last month when two bribery detectives investigating the case filed a fundamental rights petition in the Supreme Court saying they were transferred out of the Commission for pursuing the case.
One of the petitioners, Inspector Nihal Amarasiri, was transferred to the Vavuniya division and deployed in a bunker on the Mannar-Vavuniya Road while the second petitioner, Inspector K.A. Sujatha Kumari,was transferred to Police Headquarters.
Inspector Amarasiri in his petition alleged that one of the Commissioners, Indra de Silva, summoned him to his office in mid July and told him that the minister had called him several times and asked him to drop the case, saying the minister had a good future.
IP Amarasiri alleges he was later summoned by the Commission's Investigations Director Neville Guruge who also advised him to drop the case.
The petitioners sought an order from the Court to call for file Nos BC/441/ 2005, BC/1134/2006 and BC1947/2006 for the Court's perusal as the police officers were bound to maintain secrecy.
The Court has granted leave to proceed in the case.