Text and pix by Shelton Hettiarachchi
An adult leopard was caught in a wire trap set for wild boar in the Nanu Oya area earlier this week.
The animal died two-days later despite efforts by veterinary officials to save its life. The incident took place on Monday night (08.09.08) when villagers discovered the leopard the following morning.
A veterinary surgeon in the area R.A.T.U. Marapone was the first doctor to reach the injured animal and treated the animal with medical facilities at his disposal.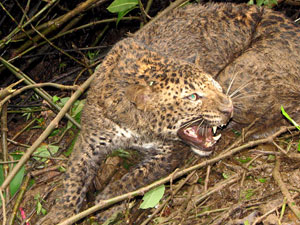 The majestic beast trapped and dangerous
In consultation with the Dr. Dangalla the specialist who was in Peradeniya, Dr. Marapone had to tranquilise the big cat directly despite the risky nature of the procedure as a tranquiliser gun was not available.
The animal was subsequently washed at a car wash centre and put into an iron cade before further treatment was provided. The Wild Life Department veterinary surgeon based at Giritale in Polonnaruwa arrived much later on the evening of the 9th and the leopard was given further treatment. Unfortunately the big cat succumbed to its injuries caused by the trap the previous day.
Wild Life sources said in its attempt to escape, the animal had most likely damaged its kidneys. The death of the leopard and the absence of wild life officials to handle emergencies in the area have raised concern regarding the setting of traps.
Muttiah Mahendran the man responsible for setting the trap was produced before the Nuwara Eliya Magistrate Amali Ranaweera and released on Rs50,000/- personal bail and Rs100,000/- surety bail.