NEW DELHI - At least 30 people were killed and more than 90 wounded when five synchronised bomb blasts ripped through crowded markets across the Indian capital New Delhi yesterday.
Police said a further three unexploded devices were found and defused, including one at India Gate, one of the country's most iconic monuments and a major tourist attraction in the heart of Delhi.
A Muslim militant outfit, Indian Mujahideen, claimed responsibility for the bombings, which were all triggered within a 45-minute period.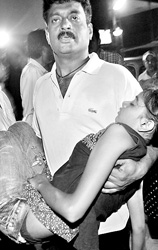 A blast victim being brought to a New Delhi hospital yesterday. AFP
"In the name of Allah, the Indian Mujahideen has struck back again. Do whatever you want. Stop us if you can," the group said in an email sent to several media outlets minutes before the first blast at around 6:30 p.m. Little is known about the origins and make-up of Indian Mujahideen, which had also claimed responsibility for a wave of bombings in July that killed at least 45 people in the western commercial city of Ahmedabad.

Security services suspect the group may be a front for outfits banned by the Indian government over the past few years such as the Students' Islamic Movement of India. India went on high alert after the blasts, boosting security at airports, rail stations and city centres.
The bombs were of varying intensity and the targeted locations in south and central Delhi were all packed with early evening shoppers who scattered in shock. "The fact the blasts took place in crowded markets on a Saturday indicates the evil intention of the culprits to cause maximum casualties and damage," said Home Minister Shivraj Patil.
India's NDTV in its midnight bulletin put the death toll at 30 while estimates of the number of injured ranged from 90 to 155. Several countries, including Pakistan and Britain, condemned the attack. Sri Lanka is yet to send a message condemning the blasts.
Two of the blasts hit Connaught Place -- the city's largest financial and commercial centre -- while two more targetted the upmarket shopping district of Greater Kailash. The fifth ripped through a crowded electronics and automobile components market.
"Everything turned black in front of me," said one witness, Gulab Singh, who was in Connaught Place when one of the bombs exploded. "I saw at least one woman almost flying in the sky, hurled by the deafening blast which we heard. There was a stampede by panic-stricken people. Many fell down and some were trampled on."
New Delhi Mayor Aarti Mehra appealed for calm. "We have the strength to face this," Mehra told reporters. "Please stay calm. Do not be afraid," she said. "The police and government agencies are on your side. Delhi's strength is in its people. We cannot be frightened."
Police in Greater Kailash searched for survivors among a mess of mangled motorcycles, cars and shattered glass from vehicles caught in two blasts that went off within seven minutes of each other.
One of the bombs was believed to have been hidden in a dustbin.
Prime Minister Manmohan Singh vowed that "the challenge posed by terrorism and communalism would be fought tooth and nail." President Pratibha Patil denounced what she described as a "mindless act of violence." The three unexploded bombs were found at India Gate, near a large cinema in Connaught Place and in Parliament Street, about one kilometre (just over half a mile) from the seat of government.
An explosive expert with one of the bomb disposal units said the devices appeared to have been packed with steel ball bearings and nuts and bolts "to cause maximum harm."
Triple blasts in New Delhi in October 2005, blamed on Pakistan-backed Islamic rebel groups, claimed nearly 70 lives. Pakistan's new President Asif Ali Zardari condemned Saturday's attacks.