Oscar nominated Italian film producer, Uberto Pasolini debut direction based on Sri Lankan story 'Machan' and produced by Prasanna Vithanage will be premiered at the world renowned Venice Film Festival starting on August 27.
The film based on a true story about how 23 young Sri Lankans created a national handball team as a ploy to get visas to Europe will be screened among 12 world premiers set for non-competitive section, 'Venice Days' at 65th Venice International Film Festival.
Financed by the U.K. (Redwave Films), Italy (RAI Cinema, StudioUrania), Germany (Babelsberg Film) and Sri Lanka (Shakthi Films) the film is produced by Prasanna Vithanage, Conchita Airolda and director Pasolini himself.
Following the premiere in Venice, the film scheduled to be released in the commericial theatres in Italy from September 17 and will go to Germany from October 30 where the film was based on and parts of film was also shot.
The 'Full Monty' famed director Pasolini was motivated by the tragic yet hilarious incident that hit the news headline internationally in 2004. In the original story, the team had heard of youngsters who had hardly seen the game, 'Handball' had fooled the German Embassy in Colombo as they were the National Handball team, and embarked on a month-long tour for the Asian- German Sports Exchange Programme in Bavaria beginning from September 8, 2004. While the onlookers even wondered as to how the "Sri Lankan National Handball" was not familiar with the basic rules of the game, the team members in one morning had disappeared into the vast Europe, probably to Italy.
| | |
| --- | --- |
| | |
| Director Uberto Pasolini in a Sri Lankan location | Producer Prasanna Vithanage |
"I fell in love with the story so much that I decided to shoot it myself," Pasolini said about his long-gestating ensemble movie at the Venice Days press conference in Rome's Casa del Cinema.The film was produced under a working title 'Handball' and later it was changed to 'Machan'.
'I first read this story when I was in Australia and I realised this would be a good opportunity to handle a serous subject like immigration, emigration, poverty, the West and policies of immigration in an amusing way or in a dramatic and tragical way,' Pasolini has told the media when inquired about his selection for the debut.
"Illegal immigrants is not a menace but it is an issue, a big issue which I think the West is handling in a wrong way," he explained. "I believe that just as free movement of financial capital there should be free movement of the human capital. I think the immigration policy of the West has to be changed and must be open. And work permits must be more easily available. The West rejects unskilled labour while skilled people are being trained at great cost by the developing countries," the internationally famed director who is famous for his award winning films said.
"It is ironical that that the film happened to have its premiere and first commercial distribution in Italy, the country where "National Handball Team" is said to have been living now and also a dream haven for many other youths in Sri Lanka," renowned filmmaker and the producer of 'Machan' Prasanna Vithanage said.
Importantly this is the story of many a young Sri Lankan now living in rich Europe and this is story of so called 'illegal migrants', Vithanage added. The script written by Ruwanthi de Chickera, the major cast comprising all Sri Lankan artistes includes Dharmapriya Dias, Gihan De Chickera, Dharshan Dharmaraj, Namal Jayasinghe and Sujeewa Priyalal in the major roles.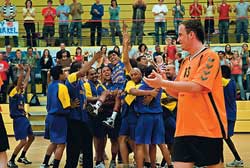 'Sri Lankan National Handball Team' in 'Machan' playing in Germany
Others in the cast are Mohamed Adamaly, Pubudu Chathuranga, Christian Ebert, Dayadewa Edirisinghe, Malini Fonseka, Theertham Muthiah Ganeshan, Sanjaya Hettiaratchchi, Lalith Janakantha, Nino Jayakodi, Sarath Karunaratne, Vajira Kodituwakku, Dilip Kumara Koralage, Mangala Pradeep Kumara, Sitha Kumari, Ravi Kumar, Hemasiri Liyanage, Saumya Liyanage, Ruwan Malith Peiris, Mahendra Perera, Chathurika Pieris, Pradeepan Puwabalasingham, Janaka Ranasinghe, Ronika Rannetthi,Achim Schelhas, Pitchchei Selvaraj, S. Selvsekaran, Jayani Senanayake,Irangani Serasinghe and Kumara Thirimadura.
'Machan'a Sri Lanka-set caper marking the directorial debut of producer Uberto ("The Full Monty"), is among 12 world premieres that will show at Venice Days, the sidebar of Venice Film Fest, which runs from August 27 to September 6.
Entries in this non-competitive splinter section, headed by critic Fabio Ferzetti, are eligible for the Europa Cinemas Award, which provides distribution in the EU-funded Europa Cinemas arthouse circuit.